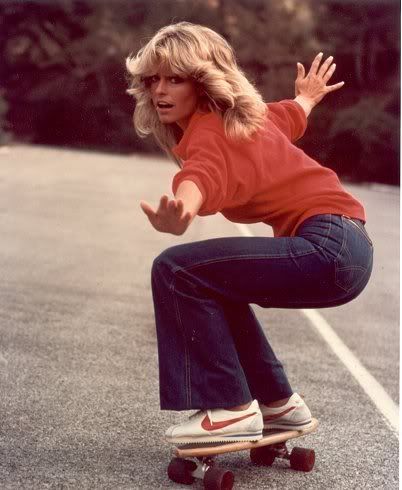 Lordy, what a day huh? First, Farrah Fawcett
has succumbed
to her battle with cancer, sending almost every male over the age of 35 into deep, deep mourning. I was too young to truly experience the
Charlie's Angels
phenomenon, but Farrah's style certainly hung on through the 1980s. My older sister had a
most fabulous
Farrah hair-style, and no I will not post photographic evidence because she has pictures of me sporting some pretty horrific perms. I'm no fool.
Then I was coming back from my lunch break today to learn that
TMZ
was reporting that Michael Jackson had died. Micheal Frackin' Jackson! Since then, the L.A. Times and other sources
have confirmed
.
Given the child molestation charges, and his
increasingly
bizarre behavior in recent years, it's easy to forget what a massive, huge, colossal superstar Michael Jackson was. I'm a child of the 1980s, and Michael Jackson's sheer famous-ness during that decade is something almost unfathomable today.
He. Was. A.

Star

.
Everything he did was new, exciting and a trend. He saved Top 40 radio from the quagmire that was the 1970s (awful beyond words). Before MJ music videos were cheap-looking novelties. Enter stage left, Michael Jackson and
John Landis
and we get
Thriller
. Suddenly, music videos can be "short films." He changed the way we dressed, he changed the way we danced, he completely changed
everything
.
But what was truly amazing about Jackson was his ability to cut across
all
demographics. Black, white, Asian, little green men, we all loved him. Children loved his music, teenagers loved his music, Baby Boomers loved his music. Hell, my Dad owns both
Off The Wall
and
Thriller
on vinyl. Which makes him a most awesome Dad because every single one of his daughters raided his vinyl collection at one time or another.
Michael Jackson died today, but I think I've been mourning him for the last several years. The Jackson 5 Michael. The Motown 25 Michael. The Thriller Michael. Not the
Sleeping In The Same Bed With Young Boys
and
Dancing On Roof Of Car Outside Courthouse
Michael. Seriously. Messed. Up.
So in honor of the Michael that
I'm
going to miss, I give you the "ABC" dance montage from the movie
Clerks II
. Oh, and it's a Kevin Smith movie - so of course we have some "naughty" words in the beginning.