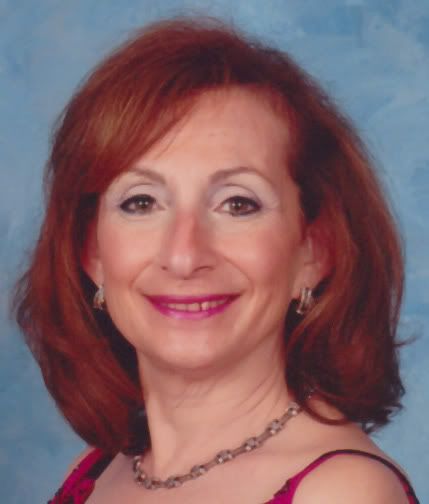 Today the Bat Cave is most pleased to welcome Harlequin editor, Marsha Zinberg, who has been on a blog tour promoting Harlequin's Famous Firsts collection. We have the most excellent honor of being her
last
stop on what has been a very busy month for the Harlequin Digital Team! So sit back, relax, and gorge on the Harlequin goodness. Oh, and be sure you don't skip over the contest information. So without further ado.....
here's
Marsha!
++++++
I've been on tour, a blog tour, which is something completely new to me since June 1st. In discussing the
Harlequin Famous Firsts
novels, I think I've learned just as much from reader's comments as I've been able to share about the Famous First authors.
From reviewing all the posts, a few interesting facts keep popping up:
• The majority of our readers start young (this is supported by our research)
•
Presents
is often the first series read and while many authors were mentioned,
Anne Mather
is mentioned most often as the first author.
• Many readers shared how many books they owned (lots!) and their storage challenges.
• Several readers said they had started reading Harlequin romances more recently and that their first exposure was as an eBook! (We are keeping up with the times, and all of our titles are published as eBooks.)
• Many had fond memories of lines that aren't part of our current offerings: Harlequin Temptation, Silhouette Shadows (we were ahead of the times!), Love & Laughter
• Others mentioned their experiences with critiques from and meetings with Harlequin and Silhouette editors
I pulled a few comments that I thought were representative:
"The very first romance I read was a Harlequin Presents when I was sixteen–so about 23 years ago. It was a book by Anne Mather and after that I was hooked on Harlequin. I've collected over a hundred books since then, mainly Presents. I treasure them…although some have been neatly stored in boxes because I don't have any room left on my bookshelves. I'm a fan of the ethnic series like the Greek Tycoons because I adore dark, alpha men and lovely Mediterranean locales. I've also been enjoying the new eBook lines, mainly Spice Briefs–hot stuff!"
-- Celia Jade
"Fun facts, huh? Two of my favorite authors, Kathie DeNosky and Patricia Davids both received THE CALL on my birthday, although different years. My call came on my wedding anniversary."
--
Roxann Delaney
"I've been reading Harlequin since 1970. My first one was

The Arrogant Duke

by Anne Mather. Most of my books are on my keeper shelf, and soon my grandchildren will read them! Great list, many of my favorite authors still write wonderful books!"
-- Eva S
"I have been reading Harlequin books since the early 90s. I thought they were strictly sweet romances until I spotted a Harlequin Intrigue in a Kmart store by my house. Ever since that first Intrigue novel (called Dominoes), I've been hooked. I still love the Intrigues, but over the years I've also enjoyed Silhouette Shadows, Silhouette Romantic Suspense (Intimate Moments), Steeple Hill Suspense and more. Some of my favorite Intrigue authors past and present are/were: Anne Stuart, Kelsey Roberts, BJ Daniels, Dani Sinclair, Amanda Stevens, and Carla Cassidy.

I will always be a Harlequin fan!"
--Sandra M
"I remember being about twelve and sneak-reading a Harlequin from my older cousin's bookshelf during a summer visit… and being caught at it by my dad and having the first of many (many!) "discussions" about age-appropriate reading material…

Alas, poor Dad, he never had a chance! I'd solemnly listen to his lectures and go right on reading romance. Though to this day, when my parents enter the room, my first reaction is to hide the book/cover."
-- Ms BookJunkie
"I've always been such a voracious reader that it's quite possible I read Harlequins very early on, but I don't recall many of the publishers of the books I read as a young girl. My first official foray into Harlequin was actually as a part of this anniversary celebration. I'm glad for the introduction, too. I'll be reading more. Unquestionably."
--
Carolyn Jewel
"Actually, I just recently started reading Harlequin. Until I received my Sony Reader, I mostly went for longer novels, historicals usually. However, then I found a bundle on the bookstore website and decided to try! Now I am addicted to them, particularly the Presents line. I am curious about Lowell's book, since I have mostly read her recent releases."
--Mari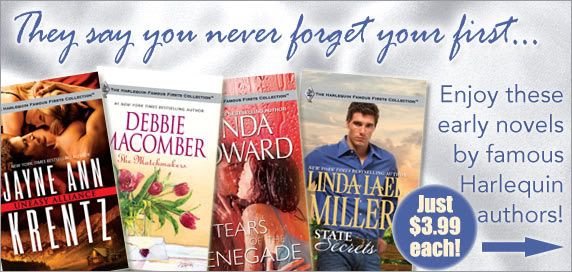 Thanks so much to everyone for sharing their memories about Harlequin. The Harlequin Digital Group tells me that they are going to gather all the posts and comments and either pull together an eBook or place it in the
eHarlequin.com community
– or both! – so we can enjoy the Famous
Firsts overview and your memories.
If you have any feedback or memories you want to share, please do so that we can include you as well!
Contest, Contest, Contest!
I have a supremely awesome Harlequin tote bag filled with eight books from Harlequin's Famous Firsts collection. To enter, leave a comment on this post and share a fond memory you have of a Harlequin author and/or book. Maybe it's that Harlequin Presents you found at the library one summer when you were 14, or maybe it's the Harlequin author that sent you on your first, mad glom. Whatever it is, share that memory for a chance to win the awesomeness.
Contest Ends Monday, June 29
.
Previous stops on the Blog Tour can be found at Bookbinge, Plot Monkeys, Blaze authors blog, Romance Junkies, Romancing the Blog, Dear Author, Cataromance, Teach Me Tonight, and The Pink Heart Society.