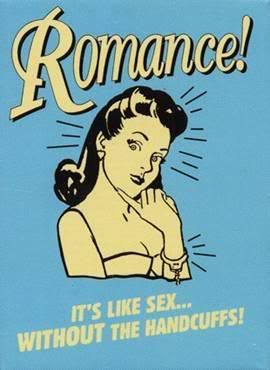 OK, so I'm finally getting around to doing my monthly reading recap for April. I managed to get nine books read, most of them pretty decent. Here's how it all breaks down:
A Cowboy's Promise
by
Marin Thomas
, Harlequin American Romance,
Grade = C-
. This was the second book I've read by this author and the second book that largely didn't work for me. The heroine was way too "save me rescue fantasy" for my tastes, and the hero wasn't exactly a prize either. There's also a scene where the hero has to clean up after one of the heroine's kids who has an "accident" on the bathroom floor. Ahhhh, romance! Not.
Full TGTBTU Review
.
The Substitute Bride
by
Elizabeth Lane
, Harlequin Historical,
Grade = C+
. A sequel to
The Borrowed Bride
, I liked the early 20th century San Francisco setting and the heroine. The hero? Yeah, not so much. Still the selfish jackass that he was in the first book. Absolutely no growth.
Full TGTBTU Review
.
Someone Like Her
by
Janice Kay Johnson
, Harlequin SuperRomance,
Grade = B-
. A nice story about a hero who discovers his mentally ill mother is alive, living in a small town in the middle of nowhere. A nice romance about grown-ups, no babies or kids mucking up the works. I did feel the heroine was a bit too hard on the hero, hence knocking my grade down a bit. But still, a solid read.
Full TGTBTU Review
.
In A Mother's Arms
by
Jillian Hart
&
Victoria Bylin
, Steeple Hill Love Inspired Historical,
Grade = B-
. File this under Wendy Broadening Her Horizons. I thought it was high time I try reading an inspirational romance, and since both authors have written secular books I figured they'd be a good way to test the waters. The Bylin story was a real stand-out, but pretty heavy on the "God Stuff." The Hart wasn't quite as heavy, and a nice sweet read.
Full TGTBTU Review
Taking Care Of Business
by
Megan Hart
&
Lauren Dane
, Erotic Romance,
Grade = B
. I love Hart's writing, but admittedly her Spice novels can be a little "heavy." This was a light, fun, sexy erotic romance. An ideal beach read.
Full Review
.
Ride The Fire
by
Pamela Clare
, American Historical Romance,
Grade = B+
. I like "gritty" historicals, and appreciated that the author didn't pull her punches. Loved the period detail in the story, and a great romantic couple, both with plenty of personal baggage. Not a keeper for me, but I understand why it is for many other readers.
Full Review
.
The Rake's Inherited Courtesan
by
Ann Lethbridge
, Harlequin Historical,
Grade = C
. False advertising with this title since the hero isn't remotely rakish. Nice hero, nice heroine, but the lack of communication between the two, along with misunderstandings and assumptions were more than a touch annoying. Seriously, why is it that Regency romantic couples can't seem to
talk
to each other?
Full TGTBTU Review
.
A Not So Perfect Past
by
Beth Andrews
, Harlequin SuperRomance,
Grade = A-
.
The best read of the month
. Fantastic wonderful romance about a heroine who finds her back bone and a hero who gets his second chance. Emotional, sweet, all-in-all a great read. And only Andrews' second book for HSR. Yippeee! Wendy found a new author!
Full TGTBTU Review
.
Menage On A Train
by
Alice Gaines
, Spice Briefs, Erotica Short Story eBook,
Grade = B
. Um, yeah. Wanna guess what this short story was about? Hot, sexy, but very much fitting in the erotica = escapist fantasy mold. If you're looking for realism and oh...I don't know....safe sex practices and condoms? Not the read for you. I was able to roll with it, hence the grade.
Full TGTBTU Forthcoming.