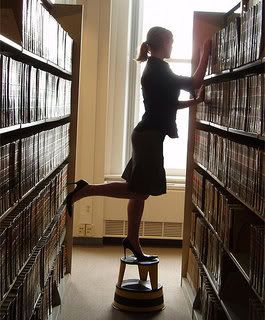 It's probably a good thing I took two days off and marginally unplugged prior my library's literary event (you know, the one I was doing the
homework reading
for?). I always seem to forget what a long, exhausting day it is. Fun, interesting and lovely - but damn,
exhausting
.
First, let's get this out of the way right now. No, I didn't take pictures. I just didn't. I'm horrible with stuff like that. However we did have a minion running around the event snapping photos, so it should be no problem for me to steal one later.
This was our third annual event, the third year yours truly has moderated the romance panel, and the second year where I literally got
all
the authors on said panel. Now, I've had some good panels in the past. Lovely ladies, all of them. But this year? This year was just all kinds of awesome.
Kathleen Givens
,
Christie Ridgway
and
Chris Marie Green
did a fabulous job of keeping things light, keeping it moving, and just being all around awesome panel participants. Basically I just had to sit back and let them go. Made my job easy, that's for darn sure - and we even had 20 minutes for audience Q&A afterwards, which is always lovely.
I also met the equally as awesome
Dorothy Howell
, who was there to talk about her "debut" mystery novels. Well, Dorothy also writes for Harlequin Historical under the name
Judith Stacy
!
Ahem
, and since I'm just a
teensy
fan of the HH line, y'all know I literally had to dig through my keeper stash to unearth my copy of
Married By Midnight
so I could get it autographed.
Granted it won't be my job to wade through the evaluation forms, but I really think today went quite well. That, and I had more than one person tell
me
how awesome
I
was, and what a great moderator I am. Huh. And here I thought the committee kept giving me the romance panel because it was one less thing they had to worry about. Maybe I'm actually pretty good at this sort of thing? Who knew?
So now I have a few weeks to decompress, and then I climb right back on the hamster wheel planning for 2010. And since final attendance ended up at just over 300 bodies - it's looking like there will be a fourth annual literary event. Which is why, I am, once again going to be showing my face at the
RWA
conference this year. To throw myself at the feet of romance authors and beg them to come do our little event. And yes, I've already got a list going of people I want to ask. Maybe I shouldn't have admitted that publicly, on the blog. Authors might see me coming and start scurrying under tables and behind potted palms....