As I mentioned
in my last post
, one of the local used bookstores (that I had never been to, so yes I was part of the problem) is closing up shop. I debated for about half a second on whether or not I'd go this weekend to check it out. Yeah, I held out that long. Who would have thunk it? I'm glad I went, because it turns out I scored quite a few goodies
(yes, clicking on the picture will make it larger for you Nosy Noras)
: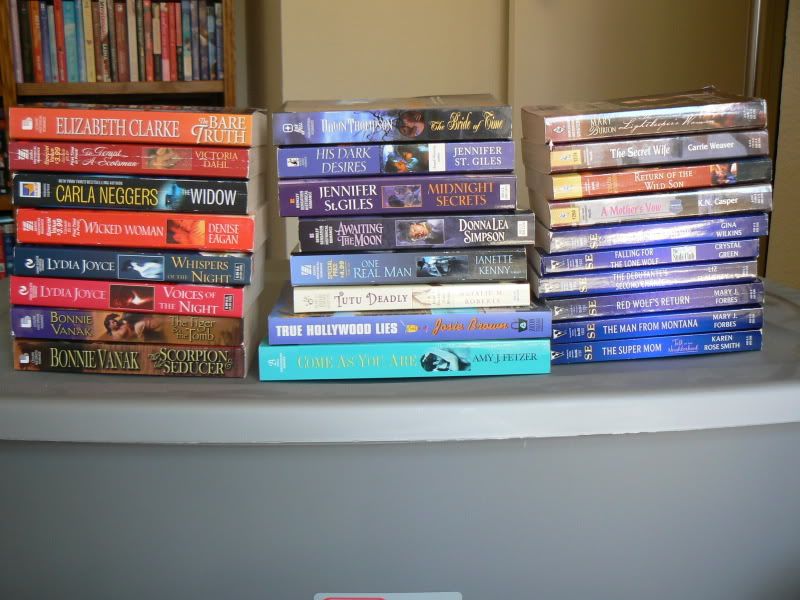 I scored 26 books for
less
than $50, which as you smarty math types know works out to be less than $2 per book. Pretty sweet eh?
Now for the So. Cal. Bloggers, all of whom are spread out over a fairly large geographic area. The
Bookman in Huntington Beach
is going to be open another couple of months. It might be worth the trip for some of you, depending on what's on your shopping list. If your TBB
only
has books that are less than 6 months old? Yeah,
not
worth the trip. Most of what I scored was "older," although I did find several 2008 releases.
Now there was quite a bit of old school romance, complete with bodice-ripping covers. So if you go for nostalgia, then definitely worth a look. Also, their collection of Harlequin series titles is very, very good. I only found a couple of SuperRomance titles I was looking for, but did very well on Silhouette Special Editions. They still had a ton of titles from the old Temptation line (
sigh
, I miss that line!), and their collection of Silhouette Desires was also quite good. So if you're a Harlequin junkie like I am, it's definitely worth a trip since they were selling them for $1 a piece this weekend (and one can presume that the price might drop as this liquidation goes on).
So if you're looking for historicals and Harlequins? Might be worth the trip. At the very least, it was a fun a treasure hunt and I spent several minutes gawking at old school romance cover art. You know, the ones where the heroines have more hair than
Chewbacca
and the heroes must be dirt poor because all of their shirts are torn and tattered. Ha!