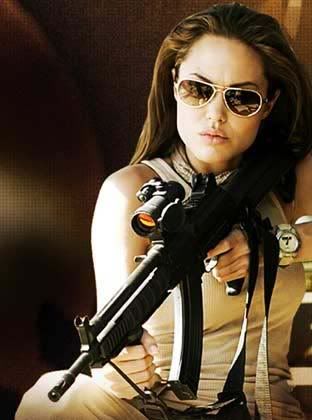 Book Binge
beat me to it
, but damn I'm going to blog about it anyway.
Word got out yesterday
that Fox 2000 has picked up the rights to
Patricia Cronwell
's Kay Scarpetta novels in hopes of developing a franchise for
Angelina Jolie
.
Fans of the books know this is not the first time there have been movie talks. Back when
Demi Moore
had a career (remember those days?) she was linked to the Scarpetta role, and specifically a movie version of
From Potter's Field
(the best book in the series, in my opinion).
A few reasons why I think it might work this time around:
Jolie met with Cornwell personally.

Although Jolie isn't blonde or

remotely

Italian-looking, I think she'll be able to get the "feel" of the Scarpetta character right.
Jolie is hotter than hot right now.
The plan is to develop a franchise around the characters, and not use one specific book as script material. I think this is an insanely smart idea.

A few reasons why I think it could be terrible:
The Lucy character. What will they do with her? Little Girl Lucy, like in the early books? Total screw-up Lucy like in the middle books? Finally getting her shit together Lucy like in the later books? I think you dump the Lucy character entirely, but if they feel like they

have

to have her, I say go with Little Girl Lucy.

Casting Marino. They need to cast him right. I always pictured George Dzundza as Marino. Maybe John Goodman, although he's too "likeable" in my mind. The problem is that both of these guys are probably "too old" now. Hollywood will probably want to go "young." The actor needs to be hefty in size and be able to play politically incorrect convincingly while still coming off as a "smart" cop. In my opinion, this is non-negotiable.

The script. All of this is a moot point if a decent script doesn't surface.
How do I feel about it? Lord help me, I'm intrigued. Mostly because I'm like one of four women (total) on the planet who actually "likes" Angelina Jolie. Yeah, yeah,
Jennifer Aniston
, blah blah blah. I do think girlfriend desperately needs a box of
Twinkies
though. Or a sandwich. Hell, carbs and sugar of some kind. I'm not picky.