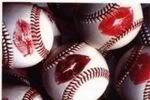 God help me, I still love baseball. I love the game. I love the history. I love the nostalgia. Steroids hasn't killed that love.
Bud Selig
hasn't killed that love. The
Yankees
and
Red Sox
trying to out spend each other hasn't killed that love. Which makes me part of the problem, but damn, I just can't quit baseball.
Today is the day gentle blog readers. Opening Day. Start of the season. Which means y'all are going to have to suffer through the occasional baseball post for the next seven months. Oh wait, I'm a
Detroit Tigers
fan. Six months.
Hardy har har
.
It's a rumble in the Bat Cave this evening as my Tigers open up the season against My Man's
Toronto Blue Jays
. OK, not really "his" Blue Jays - since other than
Roy "Doc" Halladay
, he claims no one else on the team. And certainly today is going to be a fight to the death, with Doc getting the opening day pitching nod for the Jays - and, in all likelihood, turning my Tigers into a pack of whimpering kittens.
So, what do I think of my team this year? Well, I think we'll score runs and we certainly can't get any worse on defense than we did last year. But our pitching? The question isn't
if
our pitching will lose us games, it's
how many
games. I'm hoping our starters will do better this year (again, they couldn't get much worse!), but our bullpen is a nightmare waiting to happen. I can't believe I'm saying this, but I think I miss
Todd Jones
. And no, I'm not coming down with anything. I feel perfectly fine! But our whole pitching staff is put together on a wing and a prayer this year - and I'm just not all that convinced that they'll pull their heads out of their asses long enough to not suck as hard as they did in 2008. We've got three pitchers on the DL (including
Zumaya
- who I'm beginning to believe is finished. Literally,
done
).
Bonderman
's shoulder is dicey (not good - cuz the guy is a work horse) and
Willis
is...
well
...Willis. I knew it was a terrible idea to give that guy a $20+ million dollar contract, but unfortunately the Tigers GM didn't see fit to call the Bat Cave and ask
my
opinion.
Seriously
Dave
. I would have taken your call.
But I've been wrong before and I could be wrong again. At least
Brandon Inge
is back playing third base (where God intended) and
Sheffield
has been axed (even if we're still paying his salary). Hopefully
Thames
will get more at-bats, and there's always my crush on
Curtis Granderson
to keep me warm at night.
But regardless of what I think my team's chances are this year (I'm not convinced they'll finish in last place in the division (which is the popular opinion) - but they're going to have to claw their way to third), that doesn't dim the fact that this is Opening Day. And hope always springs eternal for Tigers fans on Opening Day. Boys, I might be disowning you by the All-Star break, but for now, I love you more than ever.