Lord help me, I love watching the
Oscars
. Even though I think the Academy has been
extremely
out of touch the last few years (I'm still not over the crap-fest that was last year's best picture nominees). My Man would rather be boiled in oil than watch any type of awards show (he's an equal opportunity hater), which means I spend Oscar night hanging out in our bedroom watching the ceremony on The Other TV. This year it was me, a frozen pizza and a box of 75% off Valentine's Day candy I scored at the grocery store. Seriously, all I needed was a bottle of cheap wine to complete the night. Here's my rundown of the show:
I thought Hugh Jackman did a nice job. He was charming, funny and easy on the eyes. I liked the funny moments with Ben Stiller, Steve Martin, Tina Fey, Jack Black and the Pineapple Express boys.
In theory
, I liked that they brought out five previous winners to introduce the nominees in the acting category. I liked seeing Joel Grey. I liked seeing Sophia Loren. But the introductions were a little
too
ass-kissie and it slowed down the show. Best speeches of the night go to Kate Winslet and Sean Penn. It took forever to get to the big awards, but they were worth the wait.
I
seriously
,
seriously
,
seriously
could have done without the
dippy
musical number in the middle of the show. Besides the fact that it was
beyond
pointless, I'm so sick of seeing Beyonce everywhere I could just scream. The show is already long to begin with, there's really no need for a pointless musical number in the middle of it to make it even longer.
Now on to the most important stuff. What I thought of the clothes!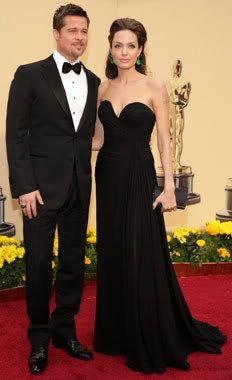 I'm like one of four women in this country who actually likes Angelina Jolie. She has a habit of dressing kinda blah for the red carpet, and this dress is no exception. It's the earrings that get me. I want to have babies with those earrings.
In my
Oh My God She's Not A Train Wreck
category, we have Marisa Tomei. Let's be brutally honest here, she's not exactly known for dressing for success, and this awards season is no exception. But this isn't bad. Certainly I'm not in love with this dress, but it could have been
sooooo

much worse
. Truly.
Oh Viola Davis. Gold lame'? Honestly? But Taraji P. Henson!
Oh. My. Gawd
. She was my best dressed for the night. The dress was pretty, that necklace kicked ass, the hair was fantastic and the make-up! Every actress in Hollywood needs to find out who does her facials, because I would kill for her complexion. Girlfriend looks like she's never had a zit in her life.
Ever
.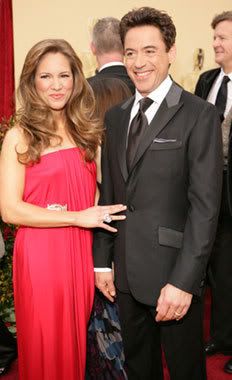 Best looking guy of the night was Robert Downey Jr. I'm excited about his upcoming
Sherlock Holmes
movie, but in most of the photos I've seen of him recently he looks quite old and tired. Like his previous lifestyle had finally caught up with him. I'm not sure what he's had done (Botox? Facials?), but he looks postively rejuvenated here. Fantastic!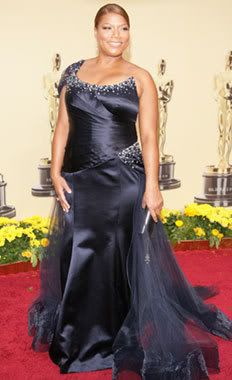 Who you callin' a bitch
? I love the Queen! The dress is nice, but I'm really only putting her picture up here because she kicks ass. U.N.I.T.Y baby!
Worst dressed woman of the night for me was Jessica Biel. It looks like she went out to dinner before she hit the red carpet, decided she had nothing to wear, and stole the table cloth to wrap around herself.
My worst dressed man goes to Phillip Seymour Hoffman. Frankly
Mickey Rourke
is too easy of a choice, and everyone
expects
him to show up on the red carpet looking like a deranged pirate from Hell. But Phillip? Such a good actor, I adore him to bits, but what the hell is he wearing on his head? Instead of the after parties, did he hang out on
L.A.'s skid row
?