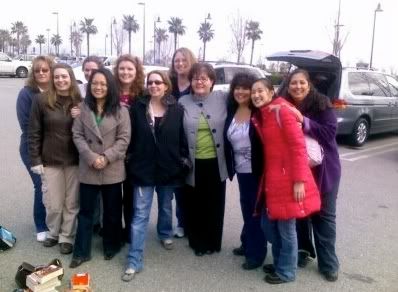 The So. Cal. bloggers in all our glory!

From left

: Blanche, Holly, Lori (who is hiding!), Daphne, Tracy, Lisabea (honorary California girl for the day), Me (the tall one, in the back!), Rosie (wearing what I'm now calling her Mary Tyler Moore coat. Or maybe That Girl?), Nikki, Alice (in red), Renee. Like how cute are we? Seriously.

I'm a little late to the game, since so many of my fellow bloggers were Johnny On The Spot and blogged already about are fantabulous day yesterday. Alice and I carpooled to our meeting destination and we were the last ones to arrive thanks to rain, Californians not knowing how to drive in the rain, and traffic. I called Rosie and told her they should start without us, and when we arrived at the restaurant we found everyone at our big ass table still looking over their menus. So perfect timing!
A couple of things I love about us getting together? Talking books of course! There's always one of us frothing at the mouth over a recent disappointing or wallbanger read (this time out it was Nikki, Holly and Blanche comparing notes!) and of course we all gush endlessly about some of our favorite authors. I also didn't realize until yesterday (or maybe I had forgotten!) that Nikki, Lori and I share pretty similar tastes when it comes to category romance. They too love the SSE and HSR lines. And I waxed poetic about the old Silhouette Desire line. You know, before Harlequin decided to morph it into
Harlequin Presents II: The Revenge!
Sigh
. Seriously, I miss those old SDs from the late 1990s/early 2000s. We also agreed that we
still
missed the old Harlequin Temptation line.
Then of course came the real fun - the parking lot book exchange, which is always an experience. If any of us have books lying around that we've read and don't want to keep, we bring them with us to swap. Basically we find a lonely corner of the parking lot, open up our car trunks, and paw through them all. Tracy has been taking our leftovers with her to donate to a local library up in her area. So all the books end up going to good homes.

It's amazing to me how many bloggers are in my area. I've gotten
so
spoiled. When I lived in Michigan, I sort of felt like I was talking into a vast space of nothingness. Granted, I moved to California in 2004, so there weren't very many people blogging back when I lived in Michigan. Still, if you have other bloggers in your area? Plan a get-together! It's such an insane amount of fun that's it's probably criminal in 23 states.
Also, if you ever find yourself out in this neck of the words? Oh Lordy, e-mail one of us! This impromptu gathering was in honor of Lisabea visiting from the east coast. Let us know you'll be in the area - because while we don't need the excuse to see each other, we love having honorary members of our little group if only for just one day.
We need to do it again soon chickies! Way too much fun!