In case you wanted further proof that I've been blogging a long ass time, way back in June of
2005
I read a category romance featuring a librarian heroine. It wasn't the worst librarian heroine I'd ever read about, but it did insult my intelligence. In
the comments of that blog post
,
Lilith Saintcrow
chimed in and what followed was her writing a book about a demon hunting librarian. She sent me the first draft, and I
read it
during a time in my life where I wasn't a happy girl. (I had applied for my current position and was flatly turned down.
Fail!
)
But all good things come to those who wait. I eventually did get
My Super Awesome Job
and Lilith eventually got her demon hunting librarian story published.
The Demon's Librarian
has been published by
Imajinn
and is now available as
an ebook through Fictionwise
. A print version is apparently in the works, and
according to Lilith
, will hopefully be available to order in the next couple of weeks. Keeping in mind I read an early draft of this story (and I'm not sure how much reworking/editing Lilith has done to it since then), I really enjoyed this book. My 2005 reading records were destroyed in a
Great Computer Meltdown
, but I seem to recall I graded this one around a
B
or
B+
. The librarian heroine is fantabulous,
and I'm not just saying that because the book is dedicated to me
. She really is
that
fantabulous. So without further ado....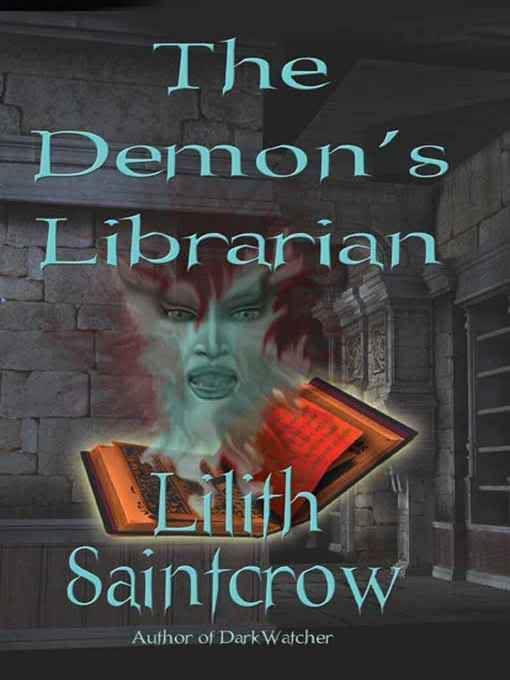 Description:
Demons are preying on schoolchildren in her city, so Francesca Barnes does what any red-blooded librarian would do--she does some research and goes hunting. But the books she finds in a secret cache don't tell her the whole story. Chess has no idea what she's just stepped into or just how special she is.

Orion is Drakul, part demon, and a loyal servant of the Order. He doesn't expect a motorcycle-riding librarian to be messing around with demonic forces, and he doesn't expect her to smell so damn good. But Ryan's got bigger problems. His partner has disappeared, and the forces of Darkness are rising.

Now Chess is Ryan's only hope of finding his partner, and Ryan is Chess's only hope of survival because the demons now know Chess exists and that she is the heir to a long-lost power that could push back their dark tide. If Ryan can keep her alive long enough, she just might be the key to destroying the demons completely. But Ryan doesn't know he's been betrayed by the very Order he serves. And if Chess does, by some miracle survive, he won't ever be able to touch her again. . .

To add to the all around awesomeness, there's
a really healthy excerpt
over at Fictionwise. You should read it. And then, of course, you should buy yourself a copy. Me? I'm going to try and restrain myself and wait for the print version to be released. Because, being honest and all, as much as I love reading on my Sony Reader, I want a
Dead Tree Copy
to show off to my family and friends so they'll finally realize how cool I am.