Here in the U.S., if you order anything from Harlequin it comes from Buffalo, NY. Now, I love Harlequin, truly I do. But by far the number one issue I have with them is the length of time it takes for something they send me to get from Buffalo all the way out here to California. I swear, they still use the Pony Express. Case in point? I got a package from them this evening that had a "Happy Holidays" greeting card inside of it.
Um, we're talking January 13. What holiday exactly? Maybe it was a Merry
Martin Luther King Jr. Day
card?
Anywho, what did I get? They sent me a 2009 calender filled with vintage Harlequin cover art goodness! I first
read about this calender
over at the
Petticoats And Pistols
blog, and
whoa doggie
, was I jealous. I adore pulpy cover art, and Harlequin had some of
the
best. Case in point, two of my personal favorites below that are featured on the calender: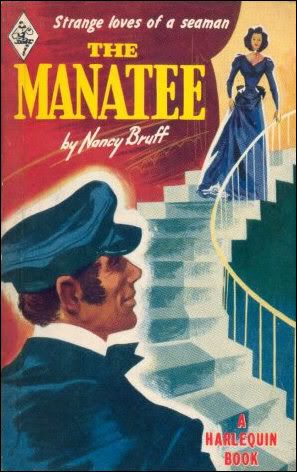 Yes this book was really entitled
The Manatee
and yes the tag line really was
"Strange loves of a seaman."
Oh man, snark should just not be this easy. I mean, where is the challenge? First off, they named a novel after a giant blubbery sea creature. Second? The word "seaman" guarantees a case of the giggles. And third? That tag line, coupled with the title, suggests our fair hero likes to walk on the wild side by lovin' nature and
all
her creatures. I mean, how is our dear heroine supposed to compete? One would assume she doesn't have flippers. Unless of course this was a precursor to paranormal romance and she's a mermaid hiding a tail under that dress. But then one wonders how she's able to stand so amazingly upright?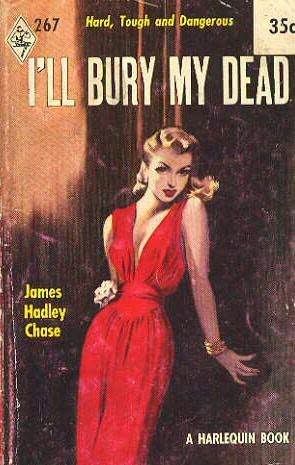 Another personal favorite is
I'll Bury My Dead
. My immediate thought was, I certainly hope so sweetheart or else it's going to smell real ripe, real quick wherever you are.
But that might be because I've read entirely too many mystery novels. Killer dress though. And check out that waistline. Is a 12 inch waist line even humanly possible?
Seriously I love this calender. It's so going up in the Super Librarian office cubicle so I can make all the other librarians pea green with envy.