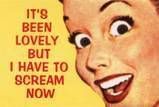 How I spent my weekend:
1) Christmas shopping is done.
2) Holiday cards are done and in the mail.
3) Doing enough laundry for a family of six. I swear, every T-shirt we own between the two of us was in my laundry basket.
4) Cleaning two very smelly bathrooms. I deserve combat pay. Just saying.
5) Ironing. Because I was an idiot and did the laundry. Next to scrubbing soap scum out of the bathtub, ironing has got to be my least favorite chore. And damn my Midwestern blood, I'm too
cheap
frugal to send this stuff out to the dry cleaners to have them do it. It goes against everything I believe in.
6) Trying to convince My Man that watching the dreadfully inept
Buffalo Bills
just isn't worth the aggravation and heartache. On the bright side, they aren't quite as dreadful or inept as the hapless
Detroit Lions
. Still, they're painful to watch. We're both currently on the lookout for a nice cushy bandwagon to hop on for the postseason. Who will it be?
7) Not doing
any
reading. Seriously,
none
. It is not remotely funny how behind I am. It makes me sad.