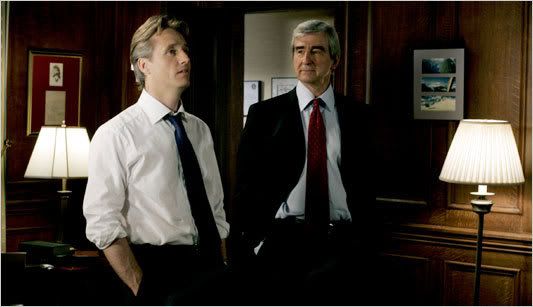 For all of you still suffering from Election Hangover, I thought we'd make the Bat Cave a tiny oasis of non-political-ness today. Instead, let us talk television and how insanely
happy
Wendy is that
Law & Order
(the original) is back for lucky number Season 19,
starting tonight
. Which means the execs over at NBC decided to pull their heads out of their asses and moved the show back to Wednesday night. I love me a rut, and Law & Order on Wednesday is just about the most comfortable rut there is.
This is where I'm going to encourage lapsed L&O watchers that they really need to give the show another shot. I know, after the untimely death of
Jerry Orbach
(who was all around
awesome
), it got rocky. I didn't loathe
Dennis Farina
like some, but when they started pairing up
Detective Green
with female partners, even my obsessive loyalty took a hit. Then word came down before season 18 that
Jack McCoy
was now going to be the DA, instead of the ADA...and well, I had my doubts.
Turns out, it was just the ticket. They also dumped the idea of having a female cop (
Lt. Van Buren
kicks so much ass, that another set of ovaries just mucked up the works), and brought in character actor,
Linus Roache
, to play the new ADA Michael Cutter. It's really revitalized the show. After so many years playing the wild card, Jack McCoy now finds himself playing politics and the dynamic between the McCoy and Cutter characters recall the golden days of
Schiff
and McCoy.
Trust me, it's like a rebirth. And I'm desperate people. Honestly, I watch so little non-foodie, non-sports related TV these days that I'm
clinging
to the few scripted television shows that remotely interest me. Plus I still haven't forgiven y'all for getting
Dirt cancelled
. I have much bitterness to still work through, and if L&O gets cancelled - well....
I'll probably start throwing knives. Or rocks. And really, nobody wants it to come to that.