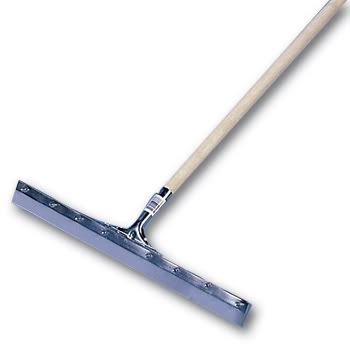 Longtime readers here at the Bat Cave know that My Man is a most excellent gift giver. And the best part? He came fully trained in that department. I put absolutely
no work
into the guy. I never even give him "ideas" for gifts. Oh no, he's that colossally awesome all on his own without any help from me.
I know, I'm spoiled....and lovin' it baby!
Now my father? Love him to bits, but a standard issue guy. After my parents came out for a visit back in September, dear old Dad sent me
The Giant Squeegee Of Doom
. It's purpose? To help me clean my patio.
I was actually excited to receive said squeegee, because I was having a devil of a time finding one in any of the hardware stores out here. But it wasn't a priority, so I hadn't resorted to ordering one online. So Dear Old Dad sent me one.
And let me tell you, I
love
my father - because I finally cleaned all the ash from the fire off my patio yesterday. Yeah, that was fun! First I used a broom to sweep off the leaves and twigs, which resulted in clouds of ash billowing in the air. After that? I dumped buckets upon buckets of water onto the patio and just squeegee'd the water right off.
Ha! Take that wild fire! You are no match for
The Giant Squeegee Of Doom
!
I've had some pretty silly blog posts in the past, but this one might just take the cake. Love you Daddy!
In other news, My Man's parents are flying in today for a week-long, Thanksgiving extravaganza visit. Which means I practically knocked myself out yesterday with cleaning and the errands I had to run. But hey, I did buy our Thanksgiving turkey (Wow, at a bargain too!) and discovered some long lost muscles I didn't know I had. But geez, I still hurt. What I wouldn't give for a hot tub right about now....