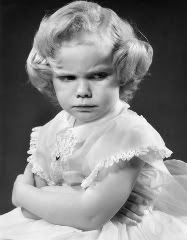 Two things that get on my last good nerve? Anonymous bloggers who are anonymous for the sole purpose of stirring up shit and people who think they're just
oh so
clever,
oh so
intelligent, and
oh so
better than the rest of us mindless, drooling peons.
No, I'm not talking about the latest kerfuffle in Romance Bloglandia (although to my knowledge, there is no kerfuffle going on right now), I'm talking about some of my librarian brethren who need to shut their pie holes because they have no bloody clue what the hell they're talking about.
So what has Wendy's panties in a bunch? Yet another useless discussion on how public libraries are bowing down to the lowest common denominator by offering up entertainment drivel to people who are too cheap to join Netflix, how we're determined to expose porn to the masses, and how we're responsible for the dumbing down of a generation because we offer video gaming programs in libraries. Public libraries should be all about education! And great literature! And intellectually building up the masses of humanity!
Seriously, just shoot me now. It'll be tidier than waiting for my head to explode.
This "debate" always annoys me because it tends to be started by 1) Librarians who should have retired 20 years ago 2) Librarians who have been locked in some academic ivory tower for the last 20 years and wouldn't know how a public library works today if it bit them in the ass or 3) all of the above.
I tend to get annoyed by pointless discussions, and this one is
beyond
pointless. Want to know why? Well, your Auntie Wendy is here to tell you. Should libraries be all about the intellectual good? Or about puerile, mindless entertainment?
Wait for it. Ready for the answer? Here it is....
Both.
A public library's sole purpose should not be one or the other. Libraries offer popular movies, video game programming, and entertaining genre fiction for one reason and one reason only. Ready for it? Here it goes.....
To get people through the front door
.
I know, shocking isn't it? We want people to use the library. We want people to "show up." Shit, public libraries are funded by public money. It's in our best interest to stay relevant.
The mission of any halfway decent public library should be two-fold. Give 'em what they want and offer them what they "need." You can lead a horse to water, but you can't make him drink. Certainly, that creepy guy who checks out online dating sites every morning is most likely never going to pick up a copy of Hamlet, but whose to say some other library user won't. Who says the kid who comes in to read graphic novels, won't later discover that the library also has books that will help him write his college essay? Or the harried single mother who comes in for a Baby Einstein DVD to get her toddler off her back - who says she won't use the library computers to get information about grants and scholarships so she can go back to school?
I'm not sure public libraries can be all things to all people without librarians slowly losing our minds, but as a profession, I think we have to try. It's what we're here for. We're here to help. And whether that help comes in the form of a loftier ideal or puerile lowest-common-denominator entertainment, who are we to judge?
The answer is, we can't judge. We shouldn't judge. Because we don't really "know." People seek information and entertainment from their local public libraries for a variety of reasons. Whether it be for comfort, escape, or to better themselves. Maybe that woman who only reads "trashy Harlequins" reads them because she's an ESL learner and Harlequins don't have $50 words that trip her up? Maybe that kid who comes in to only play computer games does so because his home life is shit and playing computer games is the only "fun" he has all day? Maybe that older gentleman only uses the public computer to check his e-mail because it's the cheapest and easiest way for him to stay in touch with his daughter who lives 3000 miles away?
I'm not one to make my job out to be more important than it really is. In the grand scheme of things, I know my place in the universe. That being said, I do think that I do "good work," just as many other public librarians around the world do. We don't get into this profession for the money, accolades or prestige (good thing to, because talk about a rude awakening!). We do it because we want to help people. And that "help" means different things to all walks of life. The minute librarians lose sight of that, is the minute they need to think about a change in careers. It's not pretty, it's not glamorous, but we're here to serve. And that means everybody. Even the people who are too cheap to get Netflix, the teens who show up for video gaming programs, and the little old ladies who only want to read Danielle Steel.
Librarians who don't like that, don't understand that, and continue to whine about it need to get over themselves. You aren't that important and we don't like you anyway.