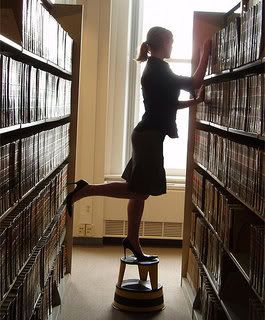 So I bet you're thinking to yourself - what exactly does a Super Librarian do on Halloween? Well, I spend my morning moving "moveable" furniture in preparation for the carpet-cleaning-guy to show up.
Sorry to shatter any glamorous illusions you may have had - but dang, I'm kind of excited by the prospect of a clean carpet. Which probably means I need to get out more.
In other news, I saw on Dear Author
this morning
that eHarlequin is offering up a free ebook as a Halloween treat. So
head on over
there and download a copy of
Hot Property
by
Carly Phillips
for free!
(Offer ends at midnight EST)
.
This was excellent news for me, since I downloaded
the new software
to my Sony Reader, that supposedly makes it play nice with
DRM
ebooks, weeks ago. The problem? Yeah, I was too
cheap
frugal to buy an ebook from somewhere other than the
Sony Store
to test it out for fear that it wouldn't work and I'd be out some cash. So this free ebook offer from Harlequin came just in the nick of time.
So, did it work?
Yes, it did
!
After I spent time tinkering.
Yeah, remember
my recent post
about how ebooks will never take off until publishers dumb down the process? Totally standing by that. My first mistake was doing all of this pre-morning caffeine consumption. I know, I'm not sure where the heck my brain was. Anywho, once I realized I had to "authorize" my device by setting up an account (for free) through Adobe Digital Editions (which I generally don't use since I
got software
with my Sony Reader), it was pretty easy.
I was only slightly tempted, for one brief moment, to put my fist through the computer monitor. Honest!
Times like this I wish I had a computer geek on call, but most of the time I figure it all out after flailing about for a while.
Now when is that carpet-cleaning-guy getting here? This girl has errands to run.
Happy Halloween everybody!