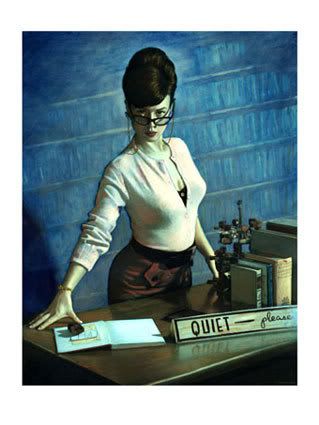 Ever since the US economy took a long walk off a short pier, speculation has been rampant on what it means for the current state of publishing and romance readers in particular. Honestly, I'm not entirely sure, but that doesn't mean I'm above wild speculation and relaying anecdotes.
One thing we've noticed here around my office?
The Rise Of The Cold Call
. Publishers who never (and I mean
never
) used to make such calls are now. One of my colleagues was floored when a
big
,
huge
publisher in the world of children's literature surprised her with a phone call recently. Blood is in the water people.
Part of me sort of feels like New York had it coming. The trend in publishing the last several years has been to
Pray To The Big Book Gods
. Yep, they put all their eggs in one basket, hoping for that one big blockbuster to push them into the
Red Zone Of Profits Heaven
. The Harry Potters and Da Vinci Codes of this world. What I think they all failed to realize is that Big Books
do not
grow on trees. You have to throw some money around first (hello, PR departments!) and hope that word of mouth will carry you to the promise land. Sometimes it does, but sometimes it doesn't. I can't tell you how many times I've thought a book would be "big," only to have it sink like a guy in a designer suit and cement shoes.
I'm not sure what, if anything, this will mean for romance publishing. Romance readers are by far the fiercest and most loyal readers on the planet. They're the kind of readers who will scrimp on other expenses (they'll clip coupons, go longer between hair cuts, drop premium cable channels) before they'll even think about taking a hack at their book budget. Even if it comes to that, they'll get creative before they give up
too
many of their precious books. They'll visit the library more regularly. They'll be on the look out for promotions and sales. They'll share books with friends and family.
As for what I'll do? I plan to keep chugging along. Even with my massive and insane TBR pile, I'm an incredibly frugal book buyer. I rely on the library for my audio book fix and 99% of the hard covers I read. My "every day" credit card is a Borders Visa, which earns me gift certificates for Borders. I can't tell you how many times I've walked out of Borders with 5 brand new paperbacks and I
maybe
spent $3 and change out of my own pocket. I get a giddy thrill every time it happens to. Which probably means I need to get a life.
As for authors? Well, it could get dicey. We've already lost so many great midlist writers, I'm wondering if we lose even more. Also, expect more paranormals. Yeah, I think we haven't begun to see the last of the bandwagon. I know, I'm not looking forward to it either.