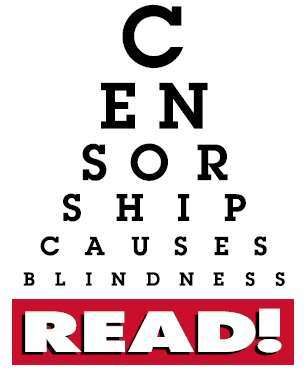 I've seen a
couple
of
posts
around the blogosphere already about
Banned Books Week
(September 27 - October 4), and since I'm a librarian - well, I'm thinking I need to address it.
I went through a phase in high school where I read a slew of banned books. Why? Because someone, somewhere was telling me they were "bad" books, that I shouldn't be allowed to read them or even have access to them, so naturally, I
had
to read them. Telling a teenager to not do something is the quickest way to ensure they actually will. Plus, while I wasn't (and still am not), what I would call an intellectually gifted individual, I do think I'm pretty full up in the common sense department. Just because I read about something in a book, does not mean I will run right out and do whatever it is I read about.
Please.
Why is Banned Books Week important?
Because free societies cannot exist without free ideas. For all our faults, human beings have a little thing called free will. Any society that has tried to censor, rein in, or squash free will, sooner or later they end up imploding. Does this happen right away? Well looking at the current world landscape, obviously not. But sooner or later it
does
happen. You can repress people all you want, but you cannot rob them of their free will unless they willingly surrender it. And although sometimes I do wonder, not everybody is sheep. Just sayin'.
Why is Banned Books Week important to genre fiction readers?
I happen to like books that have sex, violence and naughty words in them. And looking around at my blog readers - I know I'm not alone here. The first books that would-be, frustrated Nazis like to go after? Yeah, books with sex, violence and naughty words. Also, one of the constant back-handed remarks about the romance genre is that the books give
"women unrealistic expectations."
Yeah, it all goes back to
"I read it in a book, so it must be true!"
fallacy. Thanks a lot ass-wipe for implying that I'm too stupid to know the difference between fact and fiction. I appreciate it.
But

please

, won't you think of the children?
I never, and I mean never, have bought into the argument that these people are going after these "dangerous" books because they're only thinking of "the children." Look, you don't want your kid to read something?
Fine
. But don't tell me what
my
kid can read, or what the kid down the street can read, or the kid 3000 miles away can read. The problem with our society today is the
lack
of
personal responsibility
. The complete disregard that every action has a consequence. I lay that blame on
a lot
of doorsteps, but I do not lay it at an author's feet for writing a book. Life is about choices, and the minute those choices are taken away from us, we start down a slippery slope. Kids need to learn about action and consequence, about right vs. wrong. One way to do that? Read a book. How much children's fiction is based on good vs. evil plot conflict? Yeah, exactly.
So in honor of Banned Books Week, I encourage everyone to read something naughty. Either a book that someone, somewhere tried to censor, or a book that has what could be construed as "offensive" content. That shouldn't be hard genre fiction readers. Just find something with sex, violence or naughty words and you're ready for take-off.