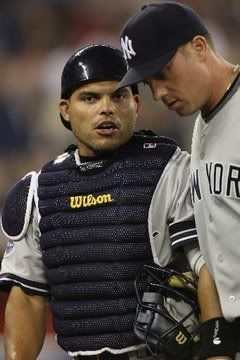 Pudge Rodriguez Says:
"Seriously man, I thought it was safe to come back to southern California. I'm not a Tiger anymore. I was traded to the Evil Empire. My magnificent butt is now wearing pin-strips. Why is that crazy woman in the cape and tiara

still

following me? Wait a minute....she's throwing batteries! Run Jeter! Run and save yourself!

Every year my parents come out to visit I take them to an Angels game. I just do. It's gotten routine now. Little did I know when I bought these tickets for the
Yankees
vs.
Angels
day game that I would see my boy Pudge wearing an evil, dirty Yankee uniform. Damn. I'm still not happy about it. Especially since we got Kyle Farnsworth out of the "deal." Bah!
I can assure you though, I won't be throwing batteries. Not that I wouldn't
love
to mind you, but because it would likely embarrass my mother, and it would mean my father would have to bail me out of jail. The old man suprisingly lacks a sense of humor about such things.
Sorry Pudge. I love ya. Truly. But Go Angels!