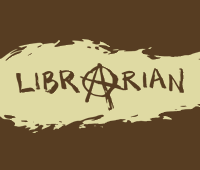 Major props to the delightfully awesome
Megan Frampton
for providing today's blog fodder. The anarchist librarian? Yeah, that's a
T-shirt
! Like, how fantastically cool is that? Turns out, not quite as cool as the description of the product on the web site.
Check it out
:
In the librarian rap battle of the century

, one would be left standing, the rest would be dewey decimated, and there was only one rule of the stacks:

Anarchy.

May book befoulers be kept looking over their shoulders. Every time they go to underline, highlight, dog-ear, or let a young child handle a book shortly after eating something with jelly, may they remember that some librarians don't believe in law.

And those who are not librarians by profession, I've seen how your shelves are organized. You have an anarchist librarian inside you fighting to get out.

Seriously, I need to get me this T-shirt.

In other news, today is the first official day of the NFL regular season. This makes me happy for several reasons:
1) I officially stuck the fork in
my baseball team
about a month ago. My poor wittle librarian heart just couldn't take anymore heartbreak.
2) My Man (The Artist Formerly Known As The Boyfriend) has been watching preseason football around the clock thanks to the
NFL Network
. So
desperate
he is for football. And honestly, I just can't get excited about "preseason." I totally understand why
he
enjoys it (he's a draft junkie and likes watching the "unknowns"), but for me I get bored after watching about a game and a half.
3) I enjoy football. Not as much as baseball, but I do enjoy it. This is even factoring in that I'm a
Buffalo Bills
fan and I'll be lucky to see my team win 6 games this year. Seriously, sometimes I think watching your team become mired in mediocrity is more depressing than watching them suck wind.
Football also means My Man and I go back to lazy (OK,
lazier
) Sunday afternoons, watching the game(s), reading the Sunday paper, and counting down the days until it stops being 100 degrees in the shade here in southern California. And don't let anyone tell you otherwise, there is nothing better on this Earth than taking a nap on the couch during a football game. There just isn't.