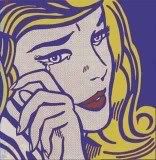 Back in April we took the plunge, called
DirecTV
, and signed up for HD. Let me tell you, it was like falling in love with TV all over again. Which now explains why The Boyfriend and I have become hermits barely venturing out on the weekends.
Of course this opening of a window, also meant the closing of a door. Getting high definition television signaled the end for our 19 inch RCA television, of indiscriminate age, we once had in our bedroom.
It's funny what people get sentimental about. Letting go of that RCA got both The Boyfriend and I a bit misty. One of his sisters gave him that TV when he went off to college. When he moved to Michigan, and in with me, he was able to fit all of his worldly possessions (including me, his girlfriend) in his old, beat-up Honda Civic. I remember how excited I was that he was bringing that TV with him to Michigan. 19 inches! A huge upgrade from the tiny 13 inch TV that got me through college. (As they say, you've come a long way baby!)
That TV sat in our living room for the five years we lived in Michigan. When we moved to California, we put it on a moving truck and we promoted it to Bedroom TV. Then our apartment went condo (bastards!), we moved again, and again that RCA found itself on a moving van.
Sure the colors were starting to bleed together, but I loved that TV. However, with the wonders of a new technological age, we had to bid farewell to that RCA. Believe me, we talked about hanging on to it, but The Boyfriend was ultimately right. Why? It can't handle an HD signal, and we weren't about to buy a set of rabbit ears for it. And Lord knows, the last thing we need is one more thing cluttering up our closets. Still, I shed a tear when I dropped off that old TV at the
Goodwill
loading dock.
Sentimental fool that I am.
While I love the
shiny
,
new,
flat panel LCD TV we bought for our bedroom this weekend, I miss that old RCA. I can't help it.
I just do
.
And while getting sentimental over a TV will probably strike some of you as a bit odd, I am not alone. Admit it. Y'all got something like this lurking in the dark recesses of your past. A T-shirt, old birthday card, piece of jewelry, your first car, something. I probably get a few points for originality (A TV? Seriously Wendy?!), but I'm curious about you all.


What inanimate object do you have a sentimental connection to?