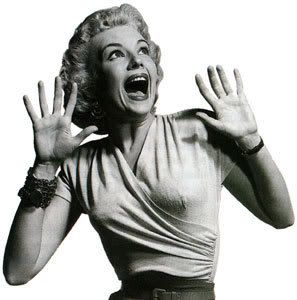 As much fun as going on a trip can be, the best part about "vacation" is coming home. It was an uneventful car trip home, although every time
Rosie
and I stopped to tinkle, there was a line of about 45 women waiting to do the same. I swear that's why it took us an hour longer to get home than it did for us to drive up to San Francisco. I'm so glad I carpooled with Rosie this year, because it made the drive go by that much faster. And even though we both picked up many goodies at the conference, I was able to fit all of it in my Honda Civic (my father, car packer guru, would be ever so proud of me).
Once I got home, The Boyfriend was quite happy to see me. He did a nice job of picking up after himself, so I shouldn't have
too
much cleaning today. Although I'm thinking of writing a screenplay called
The Laundry That Ate The Librarian
. Seriously. It's just the two of us. For goodness sake, how can two people generate so much laundry?
Sigh
So that's what I'm going to be tackling today after I get motivated and buy some groceries.
A couple of last minute thoughts on RWA:
1) They need to hold the conference earlier in July. Why? Because the baseball trade deadline was July 31 and I can't be expected to enjoy the conference while my team
completely loses
it's damn mind. RWA board members - are you reading this? I think this is a perfectly reasonable suggestion and y'all must cater to my every whim.
2) I just wanted to say something about the hotel. We did have a few snafus, but the staff was helpful, courteous, and the problems were resolved in a timely, efficient manner. Hey, with that many people descending on one hotel, there are bound to be some problems. There just is. But we had very good costumer service, and I thought the staff handled the craziness well.
3) I know San Francisco is an expensive city, but I thought it was ideal for hosting a conference of this size. For one thing? I didn't feel like I was "trapped" in the hotel. It was terribly convenient to walk to a restaurant for a meal. I was able to park my car at the hotel and not move the darn thing until we left on Sunday morning.
4) I met and chatted with so many people this past week that I know I'm forgetting some. A big shout out to all the readers/bloggers I met, the local RWA chapter folks I met, and to The British Brigade of
Portia Da Costa
,
Madelynne Ellis
, and
Saskia Walker
. It was lovely to meet all of you ladies in person!
Because I learned my lesson after last year's conference, I took today off of work. I have laundry to do, groceries to buy, some light cleaning, and new books to pet. Tomorrow it's back to the office, where I plan to pass out goodies I picked up to coworkers. This was more of a working conference for me than in years past, so I also have to put the finishing touches on the "work stuff" I had to deal with at this year's RWA. On that score, it was a very productive trip indeed, and I hope to put some of my current projects "to bed" starting this week. Amen.