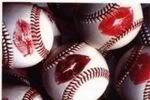 My
Tigers
(notice how they're back to being "my" Tigers)
have won
six in a row. Damn, I'm getting my hopes up. No good can come of this.
****
I did not talk to my father on this Father's Day. Not because I'm a horrible, awful daughter - but because he was at MIS today watching
Dale Jr. win
. Not sure how the old man feels about this. Probably just fine. It was Jr.'s daddy he had a tendency to loathe.
****
I was physically sick to my stomach after I heard about
Tim Russert dying
. I spent my college years living in Buffalo, NY. I would have stayed in Buffalo after graduation if there was even a glimmer of hope that I could have gotten a library job with a living wage - but alas, it wasn't in the cards. So when I heard about Russert's passing? I felt like a little piece of Buffalo, NY died. The only way I can describe it? I imagine it's what the people of New York City felt like after they heard that
Jerry Orbach
died. So desperately sad.
****
I'm probably going to have
Sleeping With The Devil
by
Vanessa Marlow
wrapped up by tomorrow. I'm liking it. Quite a bit. And this frightens me given my bumpy track record with the author's
Cheryl Holt
alter ego. Maybe I should open my front door just to make sure the
Four Horsemen
aren't standing there? More discussion on this is forthcoming. Promise.