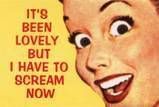 I'm trying to move on with my life after
being hacked
. For those of you keeping score at home, this ass munch got into my e-mail, Amazon and eBay accounts. PayPal was untouched thanks to the fact that I wasn't a moron and had a different password over there (which I changed anyway). As far as customer service efforts - once I found Yahoo's phone number (which took some doing) they were extremely helpful, as was eBay. So major props there. Amazon? Um yeah - not so much. I still do not have access to my Amazon account (for selling or buying) and I was informed via generic e-mail that
they
would call
me
. Yeah, that's
not
going to work. So on Monday I plan on calling them and demanding satisfaction.
The lesson in all this is to not be an idiot like me. I'm a librarian. I should have known better. But I used the same password for almost everything. Dumb, dumb, really
fucking
dumb
. Now I have about 25 different passwords, which are all nonsensical and completely different. And while I always used a combo of numbers and letters I'm now using numbers, letters, random capitalization and special characters. Trying to keep all these new passwords straight will very likely cause my feeble little brain to explode, but nobody can ever say that Super Librarian doesn't learn her lesson.
What really bothers me about all of this is I don't know "why" I was targeted. I mean, I'm smart enough to not fall for phishing scams, so how? A computer virus? Sheer dumb luck? But while talking to my Lil' Sis today she suggested another possibility. Wireless. Yep, The Boyfriend has a lap top with a wireless card and I used it a couple of weeks ago. Now, that's some serious lag time if that's how the hacker found me - but it's the only viable "reason" I've come up with so far. So now I have to nag The Boyfriend to verify that his laptop has the necessary security features, and we need to make sure we're dumping our history and cookie files. What a pain in the ass.
Of course it could not be that at all and merely my bad karma. So who knows? Maybe it really was just
that
random?
In other news, I had a very enjoyable day at the spa where I had the works done. I'm talking everything. I have cute hands and feet now. I had a facial that was so fantastic I almost asked the woman to marry me. And the massage? Seriously, I have a theory that if you're a woman, and you're feeling blue, all you need is a massage and a trip to the gay bar. You'll be feeling fabulous in no time.