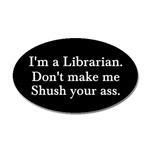 I had a busy weekend, hence my dropping off the face of the Blogosphere. Saturday was the
Ye Big Author Event
I've mentioned a couple of times before, and it went well. Of course, I'm off work today and am missing the "debriefing," so all of my coworkers could very well be saying,
"Gee, it went well except Wendy really blew chunks as the romance panel moderator."
Somehow I don't think so though, since this was the second year I've done it. I mean, if I sucked so bad they wouldn't have asked me two years in a row right? Hey, and even if they do think I suck, it doesn't matter because
my Mom thinks I'm cool!
So there!
Speaking of my mother, I talked to her and my Lil' Sis over the weekend and relayed the story to them about my day of
book pimpage
to the Little
Old
Mature Ladies and how some of them commented that I was a
"fantastic actress."
This is how much love I get from my family - they both laughed uproariously.
Geez.


The big news from this weekend though is our new TV. At Christmas I asked The Boyfriend,
"Um, what do you want for Christmas?"
To which he replied,
"Nothing. I'd rather try to buy a new TV this year."
And since his job is going well, and my job is going well, and we've been saving money like good little monkeys, we bought a new TV this weekend. I've taken to calling it
The Pacifier
. An LCD, flat panel that is 46" glorious inches. The colors! The shiny! The moving pictures! We caught some of one of the Star Wars movies last night, and it was tre' awesome! I might never go the movie theater again (except for when the
new Batman movie
lands) and wait for everything on DVD.
This new TV also means I get to watch my
Tigers
in all their 0-6 glory. Getting swept by the White Sox I can handle (just barely, cuz Lord knows I hate me the White Sox) but Kansas City? The Kansas Frickin' City Royals! Ugh! Not only that, it's making me look bad. My father, blood of my blood, asked me yesterday,
"What have you done to the Tigers?!"
Nothing Dad! I haven't done anything except love them, and give, give, give. And this is the thanks I get. Oh, and it's Boston on the road starting Tuesday. Yeah,
that
should be fun. I think I might beat the summer rush and schedule a lobotomy right now.