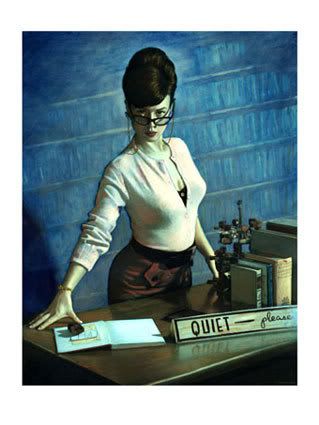 I personally felt there was
quite a bit
of
coverage
about
the Romantic Times Convention this year, which I found to be
ahem
interesting reading.
I've always said that if RT ever decides to hit the west coast, that I would entertain the idea of going. After reading all this? I'm thinking not. The costume balls, the cover models, the plethora of fangirls - nope,
not
my scene. And the whole time I was reading the coverage I had to stop myself from saying out loud, "Oh
cripes
, you've got to be
kidding
me!"
Actually the first person I thought of while I was reading about all the... hmmm, words really do fail... was my brother-in-law. The Big Sis' husband loves comic books. Big time. Batman, Spiderman, the X-Men.
Frank Miller
is God! You get the idea. He's a smart guy. A well-spoken guy. Loves him some comic books. I wouldn't say comic books are deadly serious for him, but he's the sort that wants people to view the genre in a positive light. It's not fluffy. It's not trite. Heck, there are some well written and well drawn comics out there. He wants you to acknowledge that. Then all his hard work begins to unravel by the guy walking around dressed like the
Green Lantern
at some comic book convention.
Which is sort of where I am with romance. I've talked on this blog a time or two (or three) that the genre still has serious detractors among librarians. Yes, people in my profession. People who should frankly be jumping for joy that people are reading
anything
. Period. They tell me that
their
library patrons,
"don't read bodice rippers,"
that there is no
"need"
or that I shouldn't
"spend their money on them."
Well they're right. Their patrons don't read "bodice rippers" because they chased off all the romance readers
years
ago. Just because you don't read something doesn't make it wrong.
So here I am. The librarian who has been labeled amongst fellow staff as "loving romance novels." Talking about how the genre is viable, entertaining, thought-provoking, fun, uplifting, validating, feminist - all the things that romance readers have been saying to detractors ad nauseam over the years.
Then RT comes along and I feel like I'm pissin' in the wind.
I tell myself that just because dressing in a Halloween costume and oogling bare-chested models isn't my scene doesn't make it wrong. RT serves it's purpose. It's a chance for readers and authors to get together. A chance for people with a like-minded interest to mingle. A chance to attend
some interesting
workshops. But it's all the other "stuff." The costumes, the models, the entire
Ellora's Cave
shindig....
And I'm not sure we can have it both ways. I'm not sure we can talk out of both sides of our mouth. On one hand "we" want respect. We want people to stop sneering at the genre. On the other we have the Star-Trek-like convention atmosphere of RT. Can both concepts co-exist together? I'm not so sure. Is it working for the comic book world? Maybe, but it hasn't been a slam dunk. I know librarians who only put up with graphic novels because they circulate very well until they eventually get stolen.
It's an issue I'm torn on. I don't want to deny anyone their fun, certainly no one should take themselves too seriously, and naysayers are notoriously stubborn anyway - so what exactly am I worried about? Possibly that when I tell professionals in my chosen career that I love to read romance novels they'll immediately think I like to grope
Chippendales
wannabes in my spare time.
Um no.
I'd be the girl who would point and laugh.
So where does that leave me? Back where I started. I'm a notoriously live and let live kind of person, and there is no denying that a segment of the romance reading community genuinely enjoys what RT offers. Just because it doesn't appeal to me doesn't make it bad or wrong. Still, there's that
little
part of me that wishes the genre would separate itself from all the influences that have made it nigh to impossible for it to be taken seriously over the years.
Which leaves me back to pissin' in the wind.