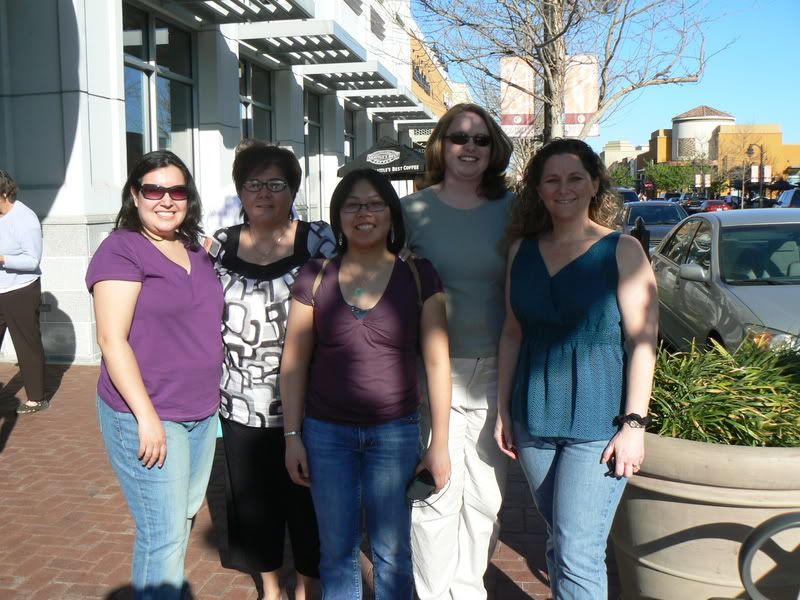 I know this is going to sound really bizarre, but it doesn't happen all too often when I can talk to people,
in person
, about books. I know, I'm a librarian. One would think I talk books all the dang time, but I really don't. Why? Because 95% of my reading is romance and it took spending time online to find people who admitted that they love the genre as much as I do. Up until I moved to California four years ago? There wasn't
a single person
, in my Real Life,
who I could see in person
, who read the genre.
Not a single one
. Sad, isn't it? And this is why the Internet rocks my socks.
Our Canadian friends to the north (
Tim Horton's
!),
Nath
and
Ames
have made their way to the States not only to attend
Holly
's wedding, but to also see some of Nath's family here in Southern California. On their way through, they stopped off to see me,
Rosie
and
Lori
. We hit Borders and then hit
The Cheesecake Factory
where I made the executive decision to the tell the diet to eff off for the day and treated myself to cheesecake! (White Chocolate Caramel Macadamia Nut - and with a name like that I don't think I have to tell you that yes, it was wonderful)
We talked, we laughed, we enabled each other at the bookstore. Plus Rosie brought a whole bag of read books for us to rummage through! We had a great time (like there was ever any doubt) and it only served to get me ramped up for RWA this summer. Cuz, man, there's a whole mess of people there I can talk to about books.
Picture from L to R: Ames, Rosie, Nath, me (yes, the freaky tall one) and Lori.