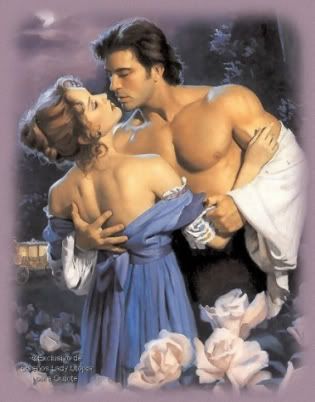 I've been thinking about the term "bodice ripper" a lot lately. Probably because I work with librarians, and let me tell you, librarians (at least the ones I tend to work with) are very fond of the term. Despite my
vast
efforts to educate them. I tell them that 99.9% of the romance authors I've met bloody well
hate
the term and a lot of readers find it insulting as well. Saying the word to the wrong library patron will either cause 1) frothing at the mouth or 2) they won't say a damn thing, feel alienated, and never darken your doorstep again. I tell them to forget the word even exists. You'll get in less trouble that way.
Now for me personally? I don't have a problem with "bodice ripper" as long as it's used in the correct context. Which, inevitably, it rarely is by people outside of the romance reading community.
Let's be honest here. Looking back at the history of the romance novel, a lot of those early stories
were
bodice rippers. That's just what they were. You had the jackass Alpha hero, the virginal good girl miss, and much heaving of bosoms ensued. Some (not all) of these types of stories were overwrought, melodramatic, and in many cases, completely over the top. Hey, that's why people read them! They were exciting! They were page turners! It was like a soap opera for your brain! And let's be honest, if you were desperate for romance novels back in the day, you didn't have a lot to choose from. You took what you could get.
But romance novels today? I have a hard time defining any of them as bodice rippers. Even those
select few
authors that write in what I call a "throwback" style or feature some less than popular elements (oh, like "forced seduction"). These books are few and far between these days. Oh sure, they exist. We all know they exist. But it's hardly like the market place is
flooded
with them. They're the exception, rather than the norm.
Unfortunately, most people not in the know still use the term bodice ripper because they haven't read a romance novel in recent memory. They read
one
romance novel back in 1985 where the hero kept ripping off the heroine's dress and they've tarred and feathered the entire genre with that brush. So from here on out everything classified as a "romance" is a bodice ripper. The cover art isn't exactly helping our cause either, especially given the proliferation of bare chested men. Nakedidity, regardless of gender, has a way of screaming
"Beware! Beware! Many Bodices Ripped!"
Dang, sometimes it screams that to me, and I'm a romance reader!
Part of me wonders if we, as the romance reading community, should try to take back the word or if we should keep howling in disgust when people not-in-the-know fling it around carelessly. Personally, I
like
the word to describe the genre's
history
- but can totally see why authors get hopping mad when some clueless idiot sneers, leers at them and says,
"Oh, you write bodice rippers."
Like they're somehow feeding propaganda into the patriarchal machine.
Geez
So what say you? Annoyed by the bodice ripper term? Want to start throwing rocks at people who fling it about with careless abandon? Or are you like me? Think the term has it's place in history but wish people would put it in the proper context?
Of course, maybe I need to quit trying to distinguish it for people and just commence with the rock throwing.