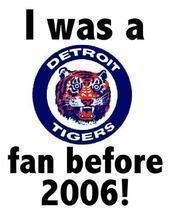 But let me tell, so much more fun to be a fan now! While the Red Sox and the Yankees are busy masturbating over
Johan Santana
, the Tigers closed
a whopper of a deal
with the continually going-out-of-business sale that is the Florida Marlins organization. Because the Marlins can't have an off-season where they
don't
have a fire sale, they dumped
Miguel Cabrera
and
Dontrelle Willis
(yes, both of them) into our laps for a whole mess of guys - most notably
Andrew Miller
,
Cameron Maybin
,
Mike Rabelo
and
Eulogio De La Cruz
(plus two pitchers I've never heard of - so sue me).
After I got over my shock (there was much shock), I think I like this deal. In fact, I think I
love
this deal. If only for the fact that the Tigers can now pull off a deal of this caliber. What a difference four years and a competent general manager make.
It wasn't that long ago that our minor leagues were a joke. Devoid of any prospect. Heck, the entire 2003, 119-loss team was essentially a AAA team playing in a major league ball park (and I'm being generous here since a lot of the time I think they could have gotten their asses kicked by a high caliber high school team). What the Tigers have done very, very well in the last four years is draft guys, and sign them. In fact, most of our "top prospects" were signed because other teams were afraid to pull the trigger on drafting them for fear they
couldn't
get a deal signed. But our owner seems determined to "get it done" so money has been flowing fairly free through the Great Lakes.
Well, not as free as Boston or New York - but still....
If I'm to be honest here, the only thing that sort of bugs me about this whole set-up is Willis, who had a pretty horrible year last season. A horrible year
in the National League
.
Uh oh
. But I'm optimistic. Unlike his time in Florida, we won't be expecting Willis to be our savior. Our Magic 8 ball. Our "ace." Nope. We just need a guy who can pitch a mess of innings. I spent most of last season praying any of our guys would last past the 5th inning (and a lot of times, they didn't). Miller is talented, but he's young. Pitchers are a lot like football quarterbacks. They can have all the talent in the world, but that doesn't always mean they pan out on the big stage. I think Miller will - eventually. But at this point I think he needs some extensive minor league seasoning (I firmly believe the Tigers shouldn't have called him up last year - but hell,
Kenny Rogers
got hurt, and whatcha gonna do?)
The other notable pitcher here is De La Cruz who has a lightning fast ball. Of course that also means his control is a tad iffy at times, and I don't think the Tigers ever figured out what they were going to do with him (starter? reliever? future closer?).
I'm going to miss Rabelo, just cuz he was so dang cute! Like a team mascot! But with our "regular" back-up catcher,
Vance Wilson
, expected to return from
Tommy John
surgery this year Mike got expendable.
And Maybin? I'm going to say. I just don't "see" what everybody else seems to "see" in this kid (OK, he's fast). However, he is painfully young. And I've been known to be a dumbass - so there you go. Maybe he is the second coming of
Willie Mays
and a few years from now I'll be crying in my beer. But sorry, ain't convinced yet.
But dang Tigers fans - ain't this exciting? A team that isn't a laughing-stock? A GM and owner willing to spend some dough and take chances? Another year of listening to
Jim Leyland
's entertaining post-game press conferences? When the heck does Spring Training start?