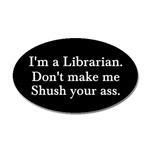 The Boyfriend
: So what are you and
Rosie
doing today?
(Sidenote: Yes, Rosie and I are hanging out this afternoon)
Me
: Oh the usual, lunch and a trip to Borders.
The Boyfriend
:
::strained laughter::
Me
: You should be proud of me, I haven't been to a bookstore in ages.
The Boyfriend
: Wendy, we live in a
bookstore
.
What, over 900 books is too many?