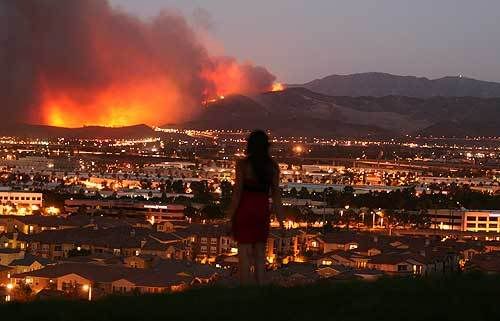 L.A. times reader submitted photo of Santiago Canyon fire near Irvine.
Welcome to California ladies and gentlemen.


The boyfriend and I woke up very early Sunday morning to the sound of wind. A whole lotta wind. The only way I can describe the phenomena of
Santa Ana
winds is that it's like living in a wind tunnel. Reports yesterday ranged anywhere from 60mph to 85mph. That's unpleasant folks. It sounded like the roof of my apartment was going to get ripped off all day yesterday.
That's certainly annoying, but only the start of what always seems to follow. Hot, dry wind, coupled with the desert conditions of Southern California mean one thing -
fire
. Malibu and San Diego have made the national news (lordy, it's horrible there!), while the O.C. (Orange County, where I live) is dealing with the above Santiago Canyon fire. To add insult to injury, the O.C. fire was reportedly set by an arsonist.
Where ever you are asshole, I hope they shrivel up and fall off.
Basically speaking it's been business as usual for me. Fires all around, but not terribly close to where I live (a bit closer to where I work). We have had to close two of our libraries though due to proximity of the blaze and road closures.
The Boyfriend reports that our apartment smells like a giant campfire.
We have lots of romance bloggers and authors that hail from the So. Cal. area. Last I heard there were a dozen fires burning from Ventura County all the way south to San Diego. Please feel free to leave a comment on this post to let us know how you're doing, what it's like in your area etc. Or please post something on your own blog. Information is power!
10/23 Update
:
KNX 1070
(news radio) has a lot of information up on their web page and you can even listen live.