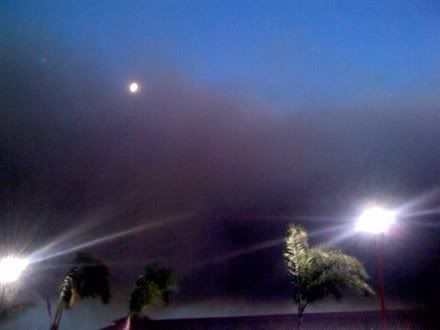 Reader submitted photo to the O.C. Register.
This is a shot from the Irvine area of the O.C./Santiago Canyon fire.
As of yesterday evening (Pacific time) all of the So. Cal. romance bloggers had checked in with each other. So for the moment, we're all safe, albeit worried about family and friends living in canyon country and San Diego.
The Santa Ana winds have died down some today, which is good news for our brave firefighters. Not so good for air quality, which has obviously been piss poor. All that wind was moving things around, but now the smoke is just hanging there, stagnant. My office building is
terrible
! I'm a healthy adult with no respiratory issues and I'm not sure I'll last the whole day. Seriously.
Where I live isn't much better. We're not only getting the smoke from the O.C. fire, but also the fires burning out near where
Rosie
lives. We're smack dab in the middle. The Boyfriend has pretty much been home going stir crazy. He's in sales, which means quite a bit of day traveling. Well, with the entire area burning down around us, he can't very well go out on the sales calls he planned this week. Where was he heading? San Diego. Ha! So yesterday he made it his mission to buy an air purifier. I thought he was nuts - not because I didn't think it was a good idea to get one - but because I thought for sure he wouldn't find one! It's a bit like buying new fans during a heat wave or portable heaters during a blizzard. Everyone else gets the same brilliant idea at once.
Oh me of little faith! I think we lucked out because most people already
have
purifiers. So he found one at his
first
stop, our nearby
Home Depot
. Best money we've ever spent! Our apartment is habitable. Not a hint of smoke. Stepping outside? Another story entirely.
The fires are better in some areas and still horrible in others. We're in for a long, hard road - and once they are out? We'll be living with the aftereffects for a long time to come. Even setting aside property damage, injuries and loss of life - who knows when the air will be fit to breathe again. And that's saying something, because it's not like the air quality is all that great under normal conditions.