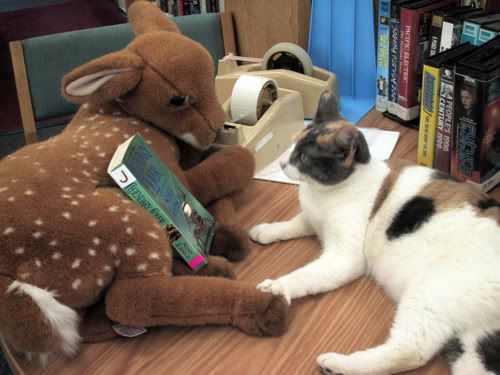 Megan The Library Cat loves her naughty books


The
Orange County/Santiago fire
went from getting better yesterday (50% containment) to worse over night (back down to 30% containment). Word on the street is that it's now moving towards the
Cleveland National Forest
in Riverside County. This is
not
good news, and will pose another challenge for our firefighters, who are working in some rough terrain.
This is one of the suspected arson fires, and I heard on the radio this morning that the FBI is on the case. I'm voting for a public stoning, but I'm bitter like that.
The smoke situation is only going to get worse before it gets better. I left work early yesterday because my office building was uninhabitable. It's better today, but I'm thinking I'll need to become a mouth-breather for a while.
Some good news to report though. One of our libraries up in canyon country has been closed all week because they are in one of the mandatory evacuation areas. Well, they have a library cat whose job is to look cute and catch any varmints (snakes, rodents) that make their way into the building. We were all worried about Megan, and wondering if she made it out. She did! The president of the Friends Of The Library group got her out after the mandatory evacuations were handed down. So good times! Hopefully she'll be back home and reading
Susan Johnson
in no time. That's an actual picture of her above reading
Legendary Lover
.