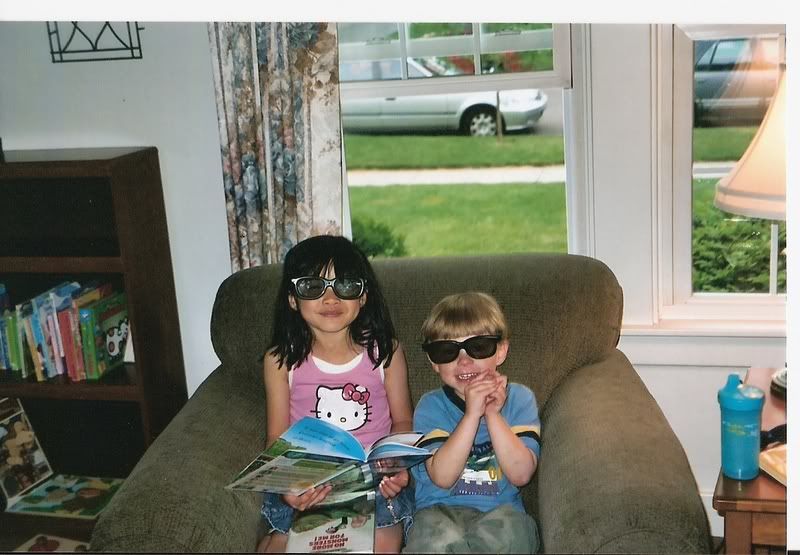 Reading is, like, totally cool Auntie Wendy!
Their mother calls this their Jake and Elwood period.
This weekend, the sheer joy of reading will enjoy an all-to-brief moment back in the spotlight. You might have heard by now - a
little book
is set to take it's bow tomorrow (and I say that jokingly since I peaked at a work copy and it's 759 pages long). And while snobby literary critics are bemoaning the fact that "infantile" adults are reading children's books (pooh on them!) and others are bemoaning how the series is really poorly written and nobody should waste their time on it - all I can do is sing the praises to the saints above that people are losing their damn minds over a book.
That bears repeating -
a book
. They're going gah-gah nutso over
a book
. A book not written by
O.J. Simpson
. Seriously people, this is all it takes to make my little librarian heart go pitter-patter.
As for me, I am still undecided on what I'm going to do. I was going to buy the book on Saturday, but now I'm thinking I'll spend the extra bucks and get it on audio. See, I've listened to the previous six books on audio. Haven't "read" a single one, and I'm afraid if I try to read #7 I'll start missing
Jim Dale
too much and get distracted.
Oh well, I still have a few hours to hem and haw about it...