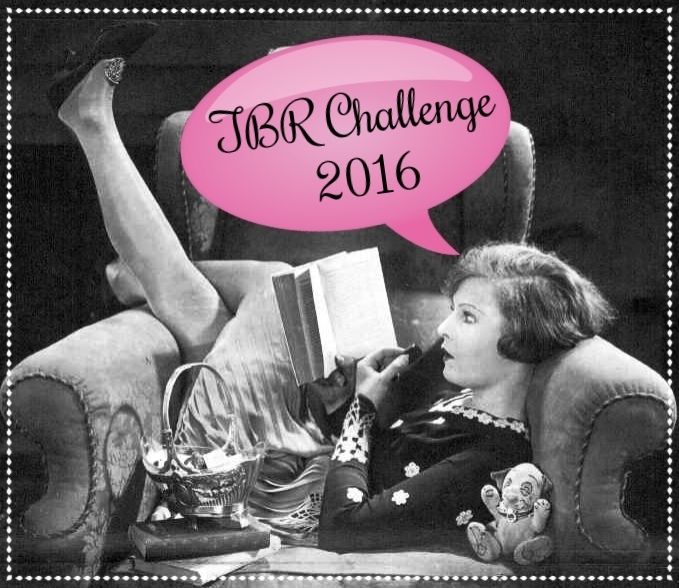 Sign-up now for your chance to participate in the 2016 TBR Challenge!
What is the TBR Challenge?
Once a month participants pulls a long-neglected book out of their TBR (To-Be-Read) piles, read it, and provide "commentary" on that book on the 3rd Wednesday of the month.
Commentary on your chosen read can happen anywhere online: your blog, Facebook, Twitter, GoodReads etc.
Frequently Asked Questions:
1) Dear Lord, you're going to make us do homework? Yes. Honestly, it's fun. For participants of the challenge (and those who just follow along), the 3rd Wednesday of the month is a guarantee day of "book talk." And, you know, older books - not the latest, greatest thing that's been promo'd half to death the past several weeks.
2) Dear Lord, you have themes?! Yes. I took over hosting this challenge in 2011 and the idea of themes came with it. Some participants like the themes (which I try to keep broad) to help them focus when faced with the insurmountable crush of their TBRs.
However, the themes are optional!
The goal of this challenge is to read something (anything!) out of your TBR. If you don't like the theme(s) - don't follow it.
3) So do I win anything if I complete the challenge? Yes. Personal satisfaction. I like to keep this challenge stress-free, so if you skip a month, post your commentary late (or early), go off theme etc. - the TBR Police will not be showing up at your door.
Great! How do I sign up?
1)
Leave a comment on this blog post
,
e-mail me
or hit me up on
Twitter
. I need whatever name you post under and a link to where you'll be posting your commentary.
So, for example
: Wendy,
The Misadventures of Super Librarian
. I will include your name and link on this dedicated page for the challenge so folks can follow along.
Commentary "due dates" and themes for next year are below.
January 20
- We Love Short Shorts! (category romance, short stories, novella etc.)
February 17
- Series Catch-Up (a book from a series you are behind on)
March 16
- Recommended Read (a book that was recommended to you)
April 20
- Contemporary
May 18
- Something Different (outside your comfort zone, unusual setting, non-romance etc.)
June 15
- Favorite Trope (a favorite theme - amnesia? secret baby? fairy tale? friends-to-lovers? etc.)
July 20
- Award Nominee or Winner (
links to past RITA finalists and winners
)
August 17
- Kicking It Old School (publication date 10 years or older)
September 21
- Random Pick (a built-in off-theme month - go where your mood takes you!)
October 19
- Paranormal or Romantic Suspense
November 16
- Historical
December 21
- Holiday Themes
Participants:
TBR Challenge 2016 Hostess: Wendy,
The Misadventures of Super Librarian
Amber @
Buried By Books
Ana @
Immersed In Books
Angelica @
BookLikes
Anna Richland @
GoodReads
AztecLady @
Her Hands My Hands
Bona @
Romantica No Rosa
Bridgett @
The Blessed Book Nut
Caz @
Caz's Reading Room
and
All About Romance's Blog
Charlotte @
Twitter
Claudia @
GoodReads
and
Twitter
Dorine @
The Zest Quest
Elaine @
Series-ously Addicted
Elisabeth @
Cooking Up Romance
Elizabeth Harmon @
Her Blog
Erin @
Burns Through Her Bookshelf
Gwen @
GoodReads
Hilcia @
Impressions of a Reader
Janet @
GoodReads
Jenn @
Lost in a Great Book
Jennie @
Biblio File
Jennifer @
Feminist Fairy Tale Reviews
Jessica @
Ramblings On Readings
Jill @
GoodReads
Julia @
GoodReads
Kathryn @
Innumerable Pages
Keira @
Cogitations & Meditations
Kelly @
Anthrosterical
Kelly @
Insta-Love Book Reviews
Kimberly @
Kimberly Keyes Romance
Laura K. Curtis @
Her Author Blog
Limecello @
A Little Bit Tart, A Little Bit Sweet
Lisa @
Schimmersmith
Liz @
Something More
Lori @
Lori's Endless TBR
Lynda @
Fish With Sticks
and
Twitter
Lynn Balabanos @
Her Blog
Lynn @
All About Romance's Blog
Lynne @
Lynne at the Library Book Reviews
Maggie @
GoodReads
Maggie H. @
GoodReads
Marylou @
BookLikes
(her
TBR Challenge specific page
)
Michelle @
GoodReads
Mindy @
GoodReads
Miss Bates @
Miss Bates Reads Romance
Mrs. Giggles @
Her Web Site
Nospheratt @
Her Blog
and
Twitter
Phyl @
Phyl's Quilts & Books
Rawan @
Rawan, Myself and I
Robin @
Twitter
S. @
A Reader's Diary
Sally Kilpatrick @
Her Blog
Shannon @
Her Tumblr
SonomaLass @
Her Blog
Valancy @
Blue Castle Considerations
Various Authors @
Happy Heart Reads
Vassiliki @
Shallowreader's Blog
Willaful @
A Willful Woman