I'm over at
Read-A-Romance Month
today
talking about the "joy of romance" in the form of "emotional truth."
Or in shorthand,
Why Wendy Reads and Loves the Genre
.
You can also read my secret confession about actors named Chris, and enter a to chance to win a prize pack from the RWA Conference that was in New York City this past July. Over there I call it a "mystery box," but you dear blog readers get an actual photo (see right) of the goodies to behold. Print books, ebook download cards, swag, and an official RWA tote bag (which is super nice, a quality canvas tote bag).
The drawing is
only open to US residents
(because I suck) - but you should check out all the posts at RARM because oh my, lots of authors, lots of giveaways, lots o' fun.
+++++
I've been kind of lax with posting my various
Heroes & Heartbreakers
ramblings over here. In case you've missed it - I still post a monthly column on Unusual Historicals.
Here is the most recent post for August
. I'm a put-your-money-where-your-mouth-is kinda gal - so
yeah
. Instead of b*tching about
All Regency Dukes All The Time
, go out and support the different when you can. I know, we all have budgets to live with. Will all of these Different Historicals be winners? Heck, are all Regency Dukes winners? But you won't know unless you try.
I also had a post up recently about
the wondrous world of delicious sexual tension
, detailing three stand-out books I've read so far this year. A just-kisses historical, a PG-13 historical and a steamy contemporary erotic romance. Great sexual tension can be found all over the genre, you just have to be lucky enough to find it.
And as always, if you look under the links section on the right-hand sidebar of this blog - there's a direct link to
All Wendy at H&H
anytime you need to catch up.
+++++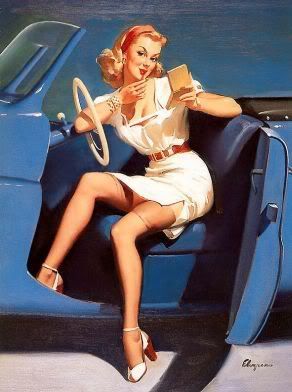 This blog will be dark pretty much all of next week
as I'm going to be traveling on business. In lieu of blogging I hope to find some good eats, some quality vino, and some time to actually,
oh I don't know
, read. Being trapped on an airplane is usually how I get a lot of reading done. So hopefully I'll have some books to chat about once I land back at Bat Cave Central next weekend.
Behave yourselves while your Auntie Wendy is away, and be kind to each other.