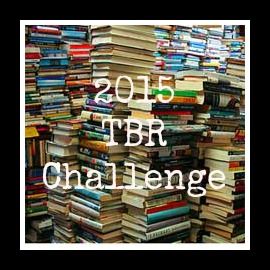 For those of you participating in the 2015 TBR Challenge, this is a reminder that your commentary is "due" on
Wednesday, February 18
. This month's theme is
Recommended Read.
I'm sure we all have a ::cough, cough:: few of these in our TBRs. That book you bought because so-and-so recommended it. However,
remember - the themes are totally optional and are not required
. Maybe none of those highly recommended books are calling your name and you instead want to read that comfort author you already know and love. Hey, that's great! Remember, it's not about the themes but reading something (anything!) out of your TBR.
This is only the second month of the challenge and it's not too late to sign up! For more information, or just to follow along with all the participants - check out the 2015 TBR Challenge Information Page.
+++++
You may have noticed what an utter wasteland of content this blog has been the past couple of weeks. Folks, I'm in a slump. It's not that I'm reading "bad books" - I just don't feel like reading. My only excuse is Real Life. I've just got, you know, "stuff" going on. Which brings us to the February TBR Challenge.....
I normally hit Twitter and share #tbrchallenge links, but I'm actually going to be unplugged for most of next week. Which means, at this point? Beside the whole not reading thing? I really hope I don't miss my first TBR Challenge since I took over hosting duties in 2011. Who the heck knows if 1) Wendy will get a book read and 2) If Wendy will have a moment to post some semblance of a review. Keep your fingers crossed, heck light a candle in church - I'm about worn down to the nub. I'm hoping my batteries get recharged next week. Please, Dear Lord.....