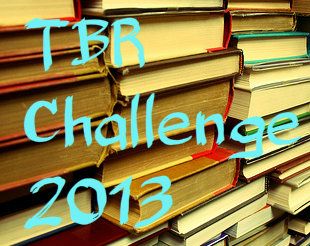 One of the reasons I like to host to the TBR Challenge is that it keeps me on track to actually complete it. I figure it wouldn't look too great for the host to skip months, plus I also try to adhere to my own "themes" every month (even though I don't require participants to). Here are the twelve books I managed to unearth out of the TBR Mountain Range last year.
Title links will take you to full reviews
The Things That Make Me Give In
by Charlotte Stein (2010) - Theme: Shorts! (
B
)
An anthology of very short fiction by Stein. At turns funny, sad, and thought-provoking. A great taste, highly recommended for fans and those curious to try her work.
Promote: To Wife And Mother
by Jessica Hart (2008) - Theme: Recommended Read (
A
)
The best of the TBR reads this year. Great romance featuring older characters with real life problems.
A Marriage-Minded Man
by Karen Templeton (2009) - Theme: Series You're Behind On (
B
)
Templeton writes nice romances about "normal" people. This one features a reunited couple. I remember liking it while I was reading it, but it didn't have a ton of "staying power" for me.
Seducing the Duchess
by Ashley March (2010) - Theme: New-To-You Author (
B+)
A problematic read that found me at the right time. Great dialogue and banter in this one.
The Drifter
by Susan Wiggs (1998) - Theme: Author With More Than One Book In TBR (
B
)
Doctor heroine with baggage finds herself helping a drifter hero on the run. Solid read, nice Americana feel, but felt the story could have been tighter in spots.
Patrick Gallagher's Widow
by Cheryl Reavis (1990) Theme: RITA winner or nominee (
B+)
A book that held up surprisingly well even though I read it 23 years after it's publication date. Great hero and heroine, but felt that the majority of the secondary characters were stereotypes.
High Noon
by Nora Roberts (2007) - Theme: Classic (author, book, trope etc.) (
B-)
Loved the suspense thread in this one and after a string of disappointing reads I practically inhaled this in one sitting. Did feel the characters were a little too "perfect" though.
Training the Receptionist
by Juniper Bell (2010) - Theme: Steamy read (
B+)
Completely devoid of reality, but I loved it anyway. Directionless heroine takes a secretarial job at a mysterious firm that requires S&M play with the bosses.
Eyes of Silver, Eyes of Gold
by Ellen O'Connell (2010) - Theme: Western (
B-)
Great story buried in subpar writing. Authors, find a good editor and hug them tight.
The Suicide Club
by Gayle Wilson (2007) - Theme: Paranormal or Romantic suspense (
C-)
Great story idea that fumbles on the execution. Also found the lovey-dovey let's make babies crap at the end really, really jarring considering how the book ends. But maybe that's just me.
The Duke of Shadows
by Meredith Duran (2008) - Theme: All About The Hype (
B
)
Loved the first half of this story when it's set in India, but the story lost steam for me when the couple moves to England and there's an introduction of a suspense subplot.
A Christmas to Remember
by Kay Stockham (2007) - Theme: Holiday (
C
)
What started out as a really intriguing angsty-read loses me when the author throws in a plot twist that essentially changes the entire complexion of the story.
Looking at all twelve reads laid out like this, I had a pretty solid year digging books out of the ol' TBR pile. Remember, it's not too late to join in on the fun for 2014. For more information about the 2014 TBR Challenge -
please check out the information page
.