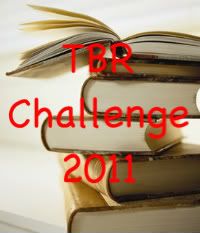 For those of you participating in the 2011 TBR Challenge, a reminder that your commentary is "due" on
Wednesday, September 21
.
This month's theme is
Series Catch-up.
In other words, a book that is part of a series that you are "behind on." This should be an easy one, since every flippin' book is part of a series these days. That being said,
remember, the themes are completely and totally optional
. If you've hit series overload, or there's nothing lying around in your TBR that fits (ha!), please go off the beaten path. The themes aren't as important as digging something (anything!) out of your TBR Pile.
It's also not too late to sign-up. If you are interested in doing so, or just want to learn more about the challenge,
please see the information page
.