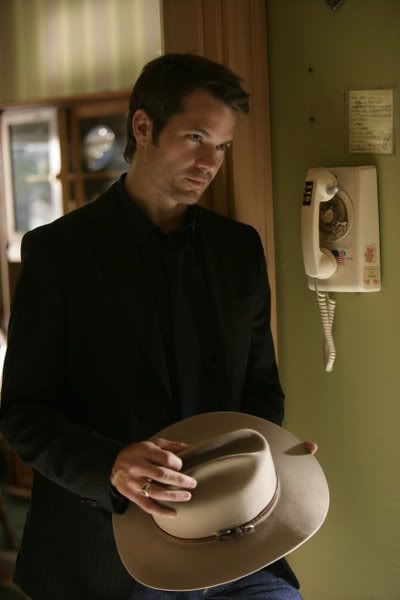 Thanks to
my homegirl Mad
for
dropping the Twitter bomb
on me yesterday and letting me know -
oh thank you baby Jesus!
- that
Justified
is coming back for it's second season in February.
People, do you know how few TV shows I watch? Like, next to none. And the few I do still watch I've grown disenchanted with. But Justified? Yeah, full of awesome. So full of awesome that even though My Man jokes that we only watch it so
"you can get your skinny guy wearing a cowboy hat fix"
(hey, I ain't dead!) it's the
one
show we both
unanimously
agree on. We both think it's
King Of Mt. Awesome
.
This bit of news that I
only have to wait until February
for it to come back on the air was met with much running around in circles, flapping of arms, squee-ing, and almost passing out from the sheer ecstasy. I think it's what they call "pleasure overload." And isn't it sad that all it takes to make me happy outside of a good book and halfway decent chocolate is a TV show with a skinny guy wearing a cowboy hat and some of the best damn dialogue to hit the small screen...
well
...
ever
.
This promo is all season one footage, but dang, you have to watch it to see what you've been missing. The show's a hit, so at least I don't have to resort to begging for people to watch it so it won't get canceled.