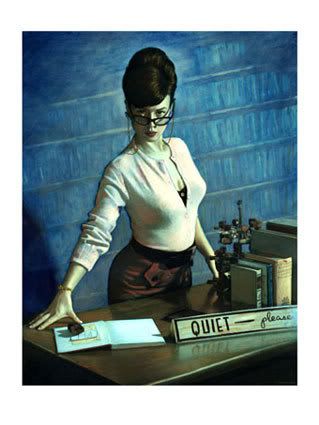 I've been hanging around the online romance community for more years than I care to admit, which means at this stage in the game I ignore all "discussions" on reviewing and "mean girl reviewers and/or bloggers." Mostly because it's pointless. Authors hate bad reviews. Readers like to vent when they read, in their estimation, a crappy book.
And never the twain shall meet....
My assertion has always been, that outside of anonymous troll-y Amazon reviews that no one in their right mind puts any stock in anyway,
most
of the reviews I see online for romance novels are actually pretty tame. Even the "bad" ones. If you don't have a life, and were willing to wade through my archives to find
D
and
F
rated reviews, you'll notice that while I tend to froth at the mouth (a lot, in some cases), I never make it personal. I never say the author is ugly, smells bad, is a hack, should be publicly flogged for subjecting this crap on an unwitting reading public
etc. etc. etc.
I
may
think it - but I
never
say it. I tend to keep the focus where it belongs - on the brain-dead characters and nonsensical plot lines.
Also, I've read
way
nastier reviews from "mainstream press," than anything I've seen some online reviewer/blogger cough up. This coming from the girl who reads book reviews...
for a living
.
But if you won't take my word for it, how about a juicy prime rib of an example? Here at the Bat Cave I occasionally like to educate as well as entertain, so consider this today's public service announcement. An example of
Hey, It Could Be Worse
or
At Least They Didn't Say That About

My

Book
....
Authors, the next time you see a negative review for one of your books online, take a deep breath and read this excerpt from the review for the children's book
The Adventures of Hotsy Totsy
by
Clive Cussler
, which can be found in the April 1, 2010 issue of
Kirkus Reviews
:
"Cussler's sequel to his abysmal

Adventures of Vin Fiz

(2006) suffers from all the same problems: stilted prose, gender stereotypes, unrealistic dialogue, deus-ex-magicus solutions to every problem. Both read as if written by someone who closed the cover on their last children's book in 1940.

A publishing event that demands an apology to the industry, all children and the trees that gave their lives.

"


(Emphasis Super Librarian)



Now go back and read that "scathing" online review from that "mean girl" for
your
book.
Um, yeah.
P.S.
- I've read
many
a snotty review in Kirkus over the years, but this one,
by far and away
, takes the cake. Actually, come to think of it,
this may be the meanest review I've ever read.
Period.
P.P.S.
- Feel free to star this blog post in your feed reader, bookmark it in your web browser, or print it out for future reference. Go ahead. I won't mind.