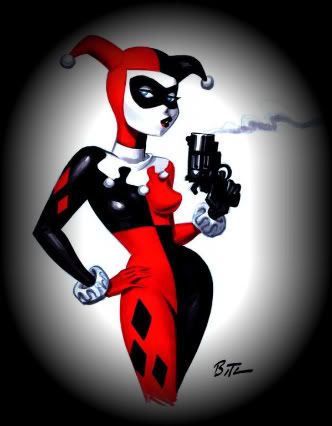 It's that time again. Time to do some housekeeping and recap what I read the previous month. I actually had a very solid February and finished 10 books. Of course, before I go patting myself on the back, I should probably disclose that 4 of those reads were actually short stories. I'm seriously backlogged on my Harlequin reviews for
TGTBTU
, so to make it up to Sybil,
and
to clean out my Sony Reader at a good clip, I zipped through those short stories during the last week of the month. Here's how it all breaks down. Title links will take you to full reviews, although most of the TGTBTU ones are still forthcoming.
Hasta La Vista Lola
by
Misa Ramierz
- Mystery, Chick Lit, Contemporary, 2010,
Grade = B-
This a quick fun read that kept me entertained despite some quibbles. Decent sexual tension, a myriad of secondary characters, but I could have used a much tighter focus on the mystery plot. It didn't light my world on fire, but a solid read.

Holding Out For A Hero
by
HelenKay Dimon
- Contemporary Romance, Some Suspense, 2009,
Grade = B+
Almost

(keep working down this list) my best read of the month. Great hero (yummers!), and a heroine who grew on me once she stopped being stubborn. Great sexual tension with plenty of sizzle, blended in with a darker suspense sub plot. Have immediate plans to read more books by Dimon. Why oh why did I wait so long?

50 Ways To Hex Your Lover
by
Linda Wisdom
- Light Paranormal Romance, 2008,
Grade = C
Funny Ha-Ha paranormal romance is normally not my scene, but this book was fairly entertaining. Saucy witch heroine, sexy vampire hero, and a uber-creepy villain. However, I found the pacing of this book to be extremely problematic. If you're a fan of light paranormals, I'd recommend checking this one out.

Wild Oats
by
Pamela Morsi
- Historical Romance, Americana, Early 20th Century, 1993, TBR Challenge,
Grade = A-
Sorry Ms. Dimon, but this was my best read of the month. Pulled out of the depths of my TBR for Keishon's TBR Challenge, our hero is the local, and single, mortician who has an itch to scratch, but doesn't want to get married just yet. So he propositions the heroine, a scandalous divorced woman, and what follows is a tender courtship. A lovely story.

Goddess Of The Hunt
by
Tessa Dare
- Historical Romance, Regency England, 2009,
Grade = B
A young (read: immature) heroine who fancies herself in love with one of her brother's best friends and finds herself getting distracted by best friend #2 - our hero. A stoic, aloof, borderline chilly hero, with a soft marshmallow interior and a heroine who is fresh and vibrant once she gets past her puppy love infatuation.

What The Librarian Did
by
Karina Bliss
- Contemporary Romance, Harlequin SuperRomance, 2010,
Grade = B
Academic librarian heroine falls in love with retired rock star hero, who has gone back to college after quitting his band and a stint in rehab. He gets off at ruffling her feathers and she's got a

Big Secret

from her past that's lurking around the corner. An enjoyable read, although at times I felt the heroine's secret past overshadowed the romance. Also, after a while it got a

little

old that these two kept jumping to conclusions about each other. I didn't

lurve

it beyond all reason, but dang - a really solid HSR read and Bliss is on the category autobuy list now.

Erotique: Carrie
by
Susan Lyons
- Erotic Romance, Short Story, Spice Briefs, ebook, 2010,
Grade = B
Suburban soccer mom heroine gets her kicks by being member of private sex club. Leaving the kiddies with a sitter, she arrives at the club and has an interlude with a sexy stranger who is dressed like Rhett Butler. I'll be honest, I wasn't feeling this story (

at all

) until the ending. The ending totally makes this one!

Erotique: Jillian
by
Susan Lyons
- Erotic Romance, Short Story, Spice Briefs, ebook, 2010,
Grade = C
Second story in trilogy about a private sex club called Erotique. This one didn't really work for me because I couldn't suspend my disbelief. The heroine gets a guest pass to a frickin' sex club from

her boss

(see heroine from

Erotique: Carrie

). A boss she has a

strictly

working relationship with. They are

not

BFFs. Ohhhhkay then. I like my boss, but if she gave me a guest pass to a private sex club, I'd manage to at least raise an eyebrow. Just sayin'.
Seducing A Stranger
by
Christine Merrill
- Historical Erotic Romance, Regency England, Harlequin Historical Undone, Short Story, ebook, 2009,
Grade = B
I'll be honest - this story would have driven me

insane

had it been a full-length novel, but as a short story it totally worked. Heroine poses as prostitute in order to get close to the man she thinks is responsible for her husband's death. Hero knows who she is, is half in love with her already, and thinks she's fallen on hard times after her husband's death. She thinks he's a traitor.

Big Misunderstanding

shenanigans ensue, and it's all neatly wrapped up at the end. Some seriously smokin' hot love scenes spice up the proceedings.

An Accidental Seduction
by
Michelle Willingham
- Historical Romance, Victorian England, Harlequin Historical Undone, Short Story, ebook, 2010,
Grade = B-
Heroine's brother has left her destitute at the family country home where she's living in poverty. Hero is her childhood sweetheart who discovers her dreary existence and is determined to protect her. This is a prequel to the author's full-length HH novel,

An Accidental Countess

(which I hope to read this month), and while it has a "happy ending," it's pretty subdued. As it probably should be, given a full-length novel is on the immediate horizon featuring these two characters. A nice warm-up though.
As reviews get posted, I'll come back and add links. In the meantime, I have high hopes for March. Now let's see if they pan out....