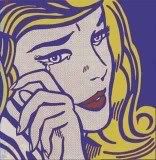 I found out a few days ago what the rest of you found out today. After almost 5 years,
Romancing The Blog
is
going on a hiatus
. The volunteers that keep the blog running are actually published authors - and in what I'm sure is a bid to reclaim their time and sanity - they've made the executive decision to fold the blog,
for the time being
. There's talk of a reboot months down the road under new management, and we'll have to see if that happens and what a "reboot" will entail.
I joined Romancing The Blog at it's inception back in 2005. By that point I had been blogging here at the Bat Cave for two years, and I was approached by the start-up team at RtB because they liked my "voice." Also, and this cannot really be discounted, while the blogging community was starting to thrive we hadn't quite reached "explosion" status yet. The plan was to include bloggers that were published authors, aspiring-to-be-published, readers, librarians, and industry professionals. I signed on mostly because I felt I had something to contribute and, at that time, I was one of the very few romance reading librarians "out" in Romance Bloglandia. Frankly, I felt my profession could benefit from the exposure.
Certainly there were detractors to Romancing The Blog. Mostly that some readers found it "boring" and "irrelevant." I found it pretty typical of any group blog and thought of it like a magazine. There were naturally some columnists I enjoyed more than others. Topics that interested me more than others. I don't read every article in a magazine, so who says I need to read every post on a group blog? What made RtB special was that on any given day you could find different voices, style, and topics. What you, as the reader, took from that was entirely up to you. You didn't have to love it all, and nobody was saying you had to.
My own body of work clearly illustrates this. I wrote some
fantastic
posts for RtB over the years (if I do say so myself) and I wrote some others that were more half-assed and by the seat of my pants. Not everything I wrote was great, struck a cord, or even generated all that many comments. But that's blogging. It's in the moment, sometimes messy, and sometimes genius. It's hard to say what will work and what won't until you put it out there for public consumption.
I'm not sure what's going to happen down the road with RtB. I'd hate to think it could possibly fade away into the sunset because at it's heart, it was a great platform for many of us. I don't know if the relaunch will ultimately happen, who is currently pondering the idea, and if the blog does come back, what it will be like. I do know that I enjoyed my time there, as one of the "old guard," and I appreciated that the minds behind RtB gave me another platform in which to promote librarianship and the romance genre as a whole. Whether or not I was successful at that is up for
strenuous
debate - but I did my best. Which according to my mother is really all one person can do.
While I'm sad to see this hiatus come down from on high, I do understand why this decision was likely made. It's also an excellent time for reflection, even as I was tip-toeing
through my archives
at RtB this morning. So I leave you with some of my favorite posts over the past several years. And in the meantime, we all wait to see what happens next.