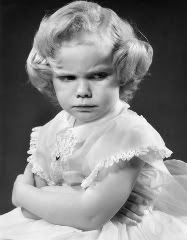 The older I get, the less tolerance I have for stupid people.
It never ceases to amaze me how romance readers can be their own worst enemies. We bitch, we moan, we rail at all the ignorant non-romance-reading morons out there who label the whole genre "bodice rippers" or "trashy Harlequins." We take to our blogs and message boards. We write letters to the editor. We get all righteously indignant, smug and point out how stupid "they" all are.
Yet, as romances readers we do
the exact same thing
. To the genre we so profess to love.
Mrs. Giggles got the ball rolling for me with
her recent post on erotic romance
, which was spot on and just plain wonderful. There's a reason people keep visiting her site, and this piece is a prime example. You also get the added bonus of Mrs. Giggles feeding the trolls who showed up. Bless her heart. I mostly ignore trolls because (see above) my low tolerance for stupid people.
Then on Twitter yesterday,
Jessica pointed out
the
Blogs Suck Major Donkey Ass
thread over at the AAR message boards.
Sigh
. Why?
Why?!?!?!
What is with the
Us Vs. Them
mentality that crops up within our community? I hate to be the bearer of
obvious
news, but no one of us is "better" than the other. No one of us is more "right" than the other. My personal favorite comment from that thread is when someone accuses blogs of being "insular." OK, are blogs insular? Certainly. But so are the damn AAR message boards! Oh. My. God. Pot, meet kettle. You two make such a cute couple.
The final straw for me came from this Dear Author thread on
cultural appropriation
. Jane, I like you. I respect what you've done with Dear Author. But some of your regular commenters make me want to put my fist through a wall. My favorite gem from that monstrous thread has got to be:
"If I want to read different, but I know that, say, Superromance puts out white, middle-class, mid-America, baby-abounding books, I won't even be looking for that different book there."

Seriously. Someone save me from the stupid.
Are there middle-class, mid-American, white people having babies in
Harlequin SuperRomance
books? Um,
yeah
. But there are middle-class, mid-American, white people having babies in a shit-load of romance books. Harlequin doesn't exactly hold the market share on that. Also, I found this sweeping generalization rather intriguing since two of my favorite Supers of this year featured an ex-con hero (and no,
not
for a white collar crime) and a heroine bartender. I've read Supers about construction workers, cops, firemen, ranchers, web designers, you name the profession, it's probably been represented in a Super. But no. It's just
so
much easier to paint an entire line of books with one big ol' brush than to actually, you know,
educate yourself about the line
. Do you see me going around saying all
Harlequin Presents
books are about Alpha asshole heroes and brain-dead virginal heroines? No. That would be because, um well, they're
not
.
Romance readers get all het up when someone "outside" who doesn't "know" the genre makes sweeping generalization, but we do the exact same thing! Do you know how incredibly frustrating this is? Especially for this librarian who spends
entirely
too much time
trying to educate her colleagues that not all romances are in the vein of bodice-ripping rape fantasies?
I'm not suggesting we all have to love everything. I'm not suggesting we all have to embrace every single sub genre. If you don't like to read category romance? Fine. No skin off my nose. But don't make sweeping generalizations that they're all secret baby, tycoon, amnesia books. If you don't like hot sexxoring that pushes the envelope? Nobody is holding a gun to your head saying you have to love and read erotic romance. But don't then go on a message board, or your blog, or wherever and say you don't read erotic romance because it's
all
badly written porn that appeals to the lowest common denominator.
Newsflash: No sub genre is all one thing
.
Not all erotic romance is badly written porn. Not every single Harlequin published is loaded with stereotypical, traditional female roles where the heroine wants to get knocked up with triplets by the epilogue.
If a sub genre doesn't work for you? After you've tried several different authors and books? That's fine. But then don't go around talking out of your ass. If you don't like certain blogs or message boards? That's fine too. Don't visit. But also don't go around bashing their very existence just because you might not like them. Because all any of this does is make you look stupid and shines a poor, low-wattage light on the community as a whole.
A community where not all of us are stupid assholes.