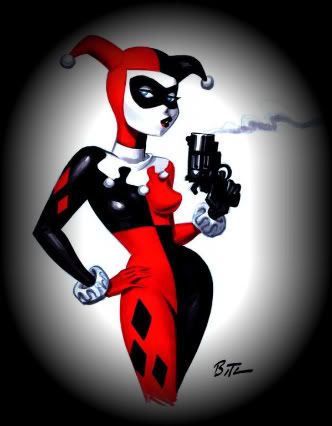 It's July 1, which means two things. 1) The stupid politicians in this god-forsaken state
still haven't been able
to slap a budget together and 2) it's time for me to look back at the reading I accomplished in June. I actually did quite well last month. I read 13 books. OK, so there are a mess of Harlequins here. Throw me a bone will ya?
Here's how it breaks down:
Let It Ride
by
Jillian Burns
, Harlequin Blaze, 2009,
Grade = B
- Keno girl with no time for romance catches the eye of a wounded Air Force pilot partying with his buddies in Vegas. Unexpected charm and emotional depth made this a very enjoyable read. This was a debut Blaze - really hoping the author writes more for the line.
TGTBTU Review
.
Tonight My Love
by
Tracie Sommers
, Spice Briefs, eBook, Short Story, 2009,
Grade = D-
- OK, so I know the Spice line doesn't have to be "romantic" but this story took me places I really didn't want to go. It literally turned my stomach. The sex is hot enough to peel wallpaper, but the ending left me wishing I hadn't read this on my lunch break.
TGTBTU Review
.
Disrobed And Dishonored
by
Louise Allen
, Harlequin Historical Undone, 2009, Regency England, Short Story,
Grade = C+
- A heroine who begs the hero to "ruin her" so she won't be forced to marry the odious lout Daddy has picked out for her. This plot can sometimes work for me, but it didn't here. Allen has a charming writing style though, and this is pretty harmless fun.
TGTBTU Review
.
Killer Cruise
by Laura Levine, Cozy Mystery, Part Of Series, 2009,
Grade = B
- The latest entry in the author's Jaine Austen (no relation) series. Brain candy, fluffy fun. I found myself suspending some disbelief when the murderer was unmasked, but it was clever, so I was able to roll with it. Ideal reading for the beach or lounging by the pool.
Full Review
.
A Holiday Romance
by
Carrie Alexander
, Harlequin SuperRomance, 2009, Part Of Series,
Grade = B+
- Carrie Alexander is one of my favorite HSR authors, and this book is a prime example of why. Heroine looking for some fun and adventure after her ill mother passes away. Hits Arizona on vacation and meets the hero, a career driven hotel manager who doesn't have time to be distracted by his hormones. No babies (secret or otherwise), no tycoons (Greek or otherwise), and not a virgin in sight. Just a straight-up, well-written, sweet (PG-rated) romance.
TGTBTU Review
.
The Heiress's Two-Week Affair
by
Marie Ferrarella
, Silhouette Romantic Suspense, Part Of Series, 2009,
Grade = C+
- Great soap-opera style plot, and a homicide detective heroine that I really liked. However I actually used the words "sanctimonious prick" in my review to describe the hero. That can't be good.
TGTBTU Review
.
Pleasured by the Secret Millionaire
by
Natalie Anderson
, Harlequin Presents, 2009,
Grade = C+
- A refreshing, young, adventurous heroine wasn't enough for me to overlook the "Oh crap we didn't use a condom" sex scene and a hero who is HP standard-issue. If you're a fan of the line this one will probably work better for you.
TGTBTU Review
.
Pulling The Trigger
by
Julie Miller
, Harlequin Intrigue, Part of Series, 2009,
Grade = C+
- An impulse buy that I didn't realize was part of a series. The beginning suffers from series info-dump, but by the second chapter it cooks up to a pretty decent cat-and-mouse-style suspense plot. Unfortunately I thought there were some holes in the story - most notably why the hero didn't immediately gut the villain upon his arrival back in town.
TGTBTU Review
.
The Border Lord
by Sophia James, Harlequin Historical, Scottish, 2009,
Grade = C
- Plain Jane heroine forced into marriage by decree of a king. The romance is pretty decent, although these characters obviously took a side trip to Regency England because they're
incapable
of
talking
to each other. I also found the villain a bit schizophrenic, and the second half is bogged down by too much external conflict.
TGTBTU Review Forthcoming
.
From Friend to Father
by
Tracy Wolff
, Harlequin SuperRomance, 2009,
Grade = B-
- Heroine agrees to be surrogate mother for her BFF, when tragedy strikes and BFF is killed in car accident. Hero is shell-shocked and pulls a vanishing act, leaving heroine alone to take care of a baby girl she had no intention of raising and her rambunctious twin boys. I had issues with the hero (who runs at the first sign of any sort of conflict) but loved the heroine to bits. Also, Wolff can flat-out write her ass off.
TGTBTU Review
.
Evil At Heart
by
Chelsea Cain
, Suspense, Part of Series, 2009,
Grade = B+
- Not as good as the previous two books in the series, but that's just me being greedy. I do think this book marks a turning point in that I don't think this series can "stand alone" anymore. There's essentially no character development here, the assumption being that the reader has read books one and two already. Also, I thought the gore factor was
much
higher in this book. There's a moment in the final 100 pages where I literally had to set this book down and walk away from it. Seriously. Messed. Up.
TGTBTU Review Forthcoming
.
Sultry Storm
by
Celeste O. Norfleet
, Kimani Romance, Part of Series, 2009,
Grade = D+
- A plot that sets the heroine up to look Too Stupid To Live, a borderline creepy hero who is in love with the heroine, even though they've
never
met. It also doesn't help that the heroine is so stubborn that she's incapable of listening when the hero wants to spill his guts to her about
The Big Secret
. Lots of sex scenes (and I mean
a lot
) weren't enough to make it work for me.
TGTBTU Review Forthcoming
.
Second Time Around
by
Portia Da Costa
, Spice Briefs, eBook, Short Story, 2009,
Grade = B-
- I tend to love Da Costa's heroines, and this one is no exception. That said, there were aspects of the erotic love scenes that pressed some of my feminist hot buttons. Just as I was contemplating how annoyed I should be by it all, the author pulls it out with a really fab ending. Fun, frothy, just don't go over-analyzing it like I did.
TGTBTU Review Forthcoming
.