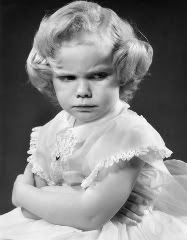 Dear Hollywood Assholes Incapable of Having An Original Idea,
I read on the Internet today that
there are plans
for another movie version of the popular board game,
Clue
. OK, this time you assholes have gone too far. I've been annoyed by the fact that no one in Hollywood seems capable of coming up with an original horror movie idea (
"Hey, let's make another version of Friday the 13th!"
"How about Saw 25?"
"Let's have Rob Zombie remake Halloween!"
), but I've been able to roll with it because, quite frankly, I'm not a horror movie fan. But now y'all are messing around with a movie that doesn't need to be messed with.
It's quite possible only my Lil' Sis and BFF will understand my anguish, but the
1985 movie version of Clue
is one of my
all-time
favorite
movies. Besides my insatiable crush on
Tim Curry
, it also features the delectable
Lesley Ann Warren
as Miss Scarlet (I would
kill
for the dress she wears in the movie!), plus amusing appearances by
Christopher Lloyd
,
Martin Mull
and
Michael McKean
. But the clincher? The pièce de résistance?
Madeline Kahn
as Mrs. White. Madeline frickin' Kahn!
And you want to make another movie version? When the first go around featured Madeline frickin' Kahn! Are y'all high? Seriously, I need to know. You're all high, aren't you?
It's funny, it's got a
slew
of fabulous one-liners (I can quote the whole damn movie), and it amuses the crap out of me. It's goofy and silly and there are a bunch of dead bodies. Heck, there are even
three
alternate endings. It's like a visual
Choose Your Own Adventure
with dead bodies in it
. It doesn't get better than that.
And now y'all want to go and make another one. Leave it alone. Get a clue (pun intended). Come up with an original idea already. What other favorite films of mine are going to be next? A new version of
Gone With the Wind
starring
Zac Efron
as Rhett Butler? (Shoot me now if this is the case. Please. I'd consider it a mercy killing.)
Fight Club
starring
Robert Pattinson
?
Fried Green Tomatoes
with
Miley Cyrus
?
ARRRRRGGGGGHHHHHHHHHHHH!
Seriously, you all suck.
Sincerely,
Little Miss Crabby Pants AKA Wendy the Super Librarian