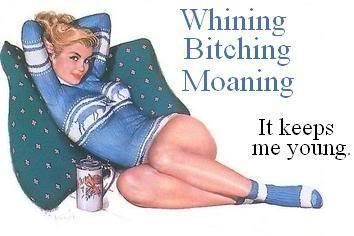 This weekend is the Super Bowl. Which means when I'm not in the kitchen preparing assorted junk food goodies, I'll be camped out on the sofa. So y'all are getting my pathetic monthly reading recap a couple of days early.
This was a depressing month. Mostly because I started out the month like gangbusters and then hit a wall. I ended up only finishing 6 books. I need to figure out what the hell is wrong with me. Or at least make more of a concerted effort to carve out at least a little reading time every day. At this rate, 2009 will be just as dismal as 2008 reading total-wise. And seriously y'all, my TBR Anxiety has reached epic proportions.
Sigh
Well, without further ado (or bitching and moaning).....
Scarpetta
by
Patricia Cornwell
, Suspense,
My Grade = C+
- An improvement over the last several books in this series, but still nowhere near as good as the earlier installments. This book felt too long, especially in the beginning, but I was happy to see the author focus more energy on the actual investigation, as opposed to all the inner angst of her characters.
Full Super Librarian Review
.
Reining In The Rancher
by
Karen Templeton
(Silhouette Special Edition), Contemporary Series Romance,
My Grade = B
- Another solid book from Templeton, who excels at writing "real" people facing "real" conflict on their road to their happily-ever-after.
TGTBTU Review
.
A Man She Couldn't Forget
by
Kathryn Shay
(Harlequin SuperRomance), Contemporary Series Romaance,
My Grade = C
- I'm a big fan of Shay's HSR books, and this one was a disappointment. The amnesia plot is well done, but outside of the heroine, her sister, and her therapist, I disliked every other character in this book. Including the hero.
TGTBTU Review
.
Pictures Of Us
by
Amy Garvey
(Harlequin SuperRomance), Contemporary Series Romance,
My Grade = B-
- A departure from Garvey's work with Brava, an emotional story of long-married high school sweethearts who are confronted by their pasts. There was one secondary character I felt was too good to be true, but otherwise, a nice read.
TGTBTU Review
.
The Rake's Intimate Encounter
by
Ann Lethbridge
(Harlequin Historical Undone), Regency Historical eBook-only Short Story,
My Grade = B
- A quick, sexy short story ideal for fans of older Nicole Jordan. What does that mean? It's hot enough to singe your eyebrows, the prose is more lavender than purple, and it's ideal for readers who want "hot" but don't like to read "crude" language like the F-bomb or C-bomb. I really enjoyed this story, and am looking forward to the author's full-length HH due out in April.
TGTBTU Review
.
The Viscount Claims His Bride
by
Bronwyn Scott
(Harlequin Historical), Regency Historical,
My Grade = C
- It was nice to read a Regency that didn't take place in London (Cornwall is center stage here), but I was annoyed by the hero who just wouldn't come out and tell the heroine why he "had" to break her heart a decade before. I also felt the villain was too easily thwarted at the end. All that said, this was my second read by Scott and the second one that featured some pretty darn good dialogue.
TGTBTU Review
.
And that's it. February is a short month. Here's hoping I can kick my butt into gear.