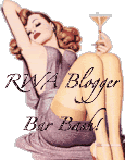 For the last several years my sisters and I have made it a tradition to have a
Girls' Night Out
when we're all home at once. Which typically means Christmas-time. We also take turns paying. Last year it was my turn. This year Lil' Sis was picking up the tab.
After a fabulous steak dinner, we hit a new bar downtown to throw back a few. Which meant
Sissy Martinis
for yours truly. Let me just say, I'm so eternally happy that I didn't know what an
Appletini
was back when I was in college. Good Lord! Could I have gotten into a lot of trouble with those. My advice? Definitely the sort of cocktail that you could easily make yourself sick on. I had two.
Only
two. I wanted about 50 of them, but since I have to fly back to Cali this evening, the idea of being hungover for three days straight held zero appeal.
For the last drink of the evening I had something called a
Turtletini
. This happy little fellow is basically a
Chocolate Martini
, with chocolate and caramel sauce drizzled in the glass and....
wait for it....
Crushed pecans around the glass rim.
Oh. My. God.
It's got to be illegal in at least 20 states. I couldn't knock these bad boys back all night, but as a "finishing drink?" Sublime. And no, I don't care that it was most likely drinking the equivalent of 5000 calories.
The weather has gone from
Cold As Hell
to
Wacky As Hell
. After arriving in Michigan to mammoth amounts of snow and 10 degree temperatures, I'm leaving the state with rain, melting snow, 50 degree temperatures and fog. This fog is supposedly going to clear up. If it doesn't? Yeah, my flights are going nowhere. Fingers crossed!