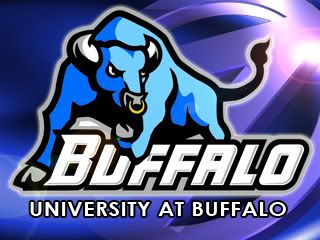 I'm not a massive college football fan, but last night was pretty damn exciting. My alma mater, the
University at Buffalo
(State University of New York)
upset
previously undefeated and
nationally ranked
Ball State
for the Mid-American Conference championship (
MAC
).
And we got to watch it all the way out here in California thanks to the wonders of
ESPN
.
So what does this mean for the Bulls? Well, they get to go to their
first ever
Bowl game, and word is they've
accepted an invitation
to the International Bowl up in Toronto. Wave to them
KristieJ
!
Between getting two college degrees, I lived in Buffalo just under 6 years - and during that entire time I think the football team won about 6 games. So yeah, last night was highly entertaining, and a huge turn-around. Congratulations boys! Woo-frickin'-Hoo!