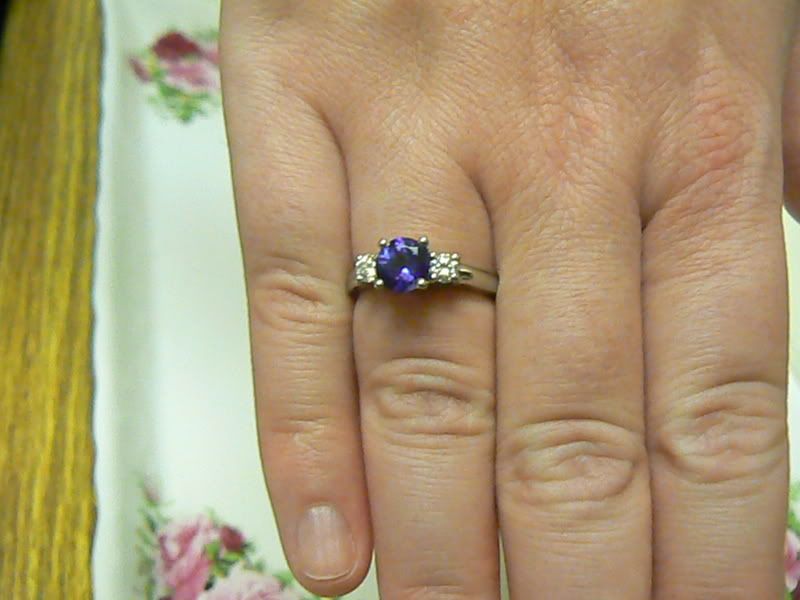 I know some of you longtime blog readers have probably been chomping at the bit to discover what My Man got me for Christmas. OK, so maybe not. Maybe I'm the only one who has slowly been going insane with his constant teasing hints and
flat out lies
(
"Gee, I hope your gift will be able to fit through our front door"
). As you regulars are well aware, My Man is a
most excellent
gift giver. How excellent? He needs no prompting. No constant subtle (and not so subtle) hints on what my little heart desires. No need for me to make out a list. He does it
all on his own
, and he has yet, in our almost 11 years together, get me a dud gift. The guy is
that
good.
This year's gift was late. Namely because he ordered it from New York and I went home for the holidays. Well, said gift arrived yesterday afternoon. What we have here is a tanzanite and diamond ring. AKA
The Nicest Piece Of Jewelry I'm Likely Ever To Own.

Ever
. What I particularly love about it is the way the tanzanite catches the light. Sometimes it looks purple, other times blue, it's not a "flat" gemstone by any stretch of the imagination.
Plus it's sooooo pretty! Flash some shiny in my face and I'm as helpless as the next girl.
So there it is folks. Christmas at the Bat Cave. I don't wear a ton of jewelry, but I'm currently toying with the idea of having this bad boy permanently attached to my finger.